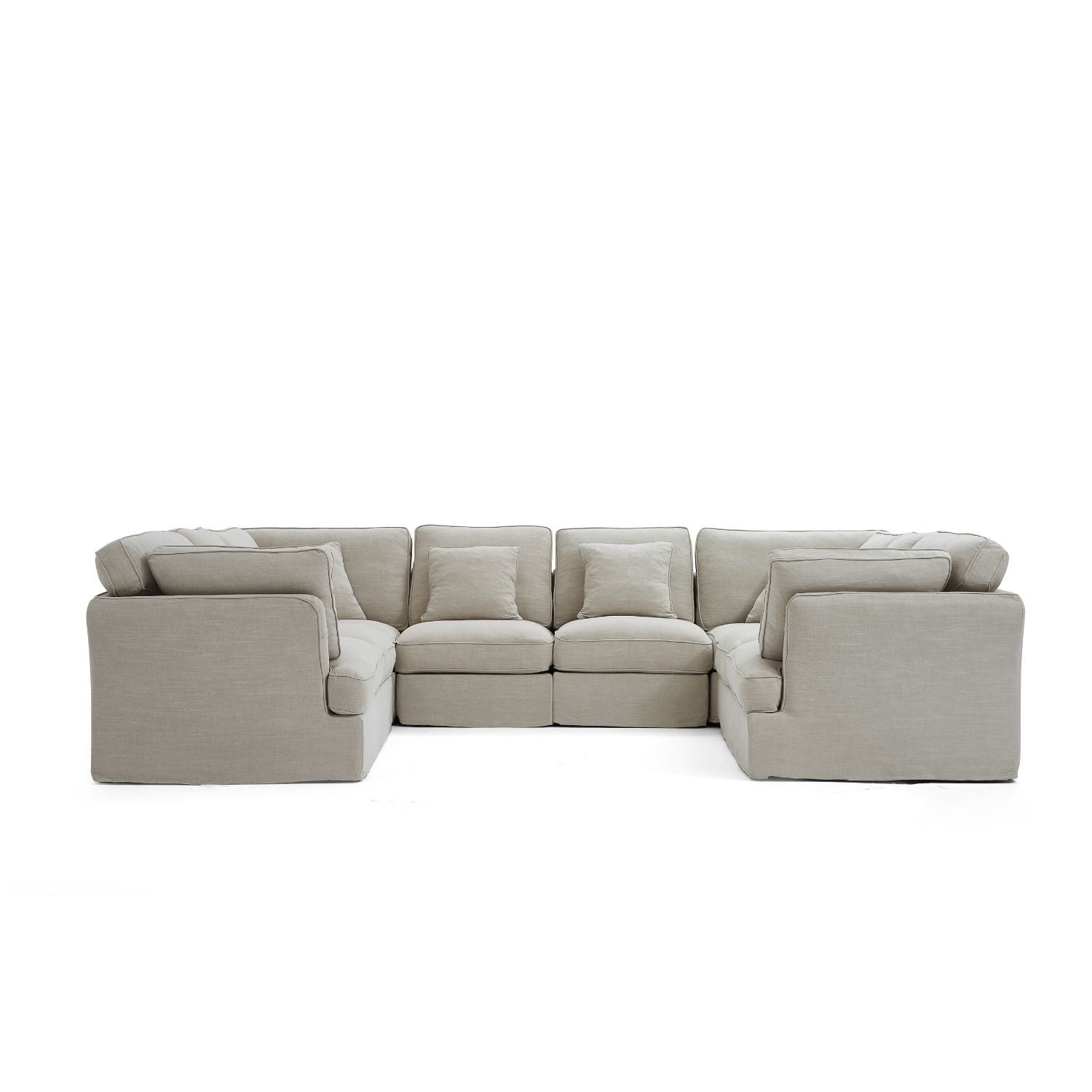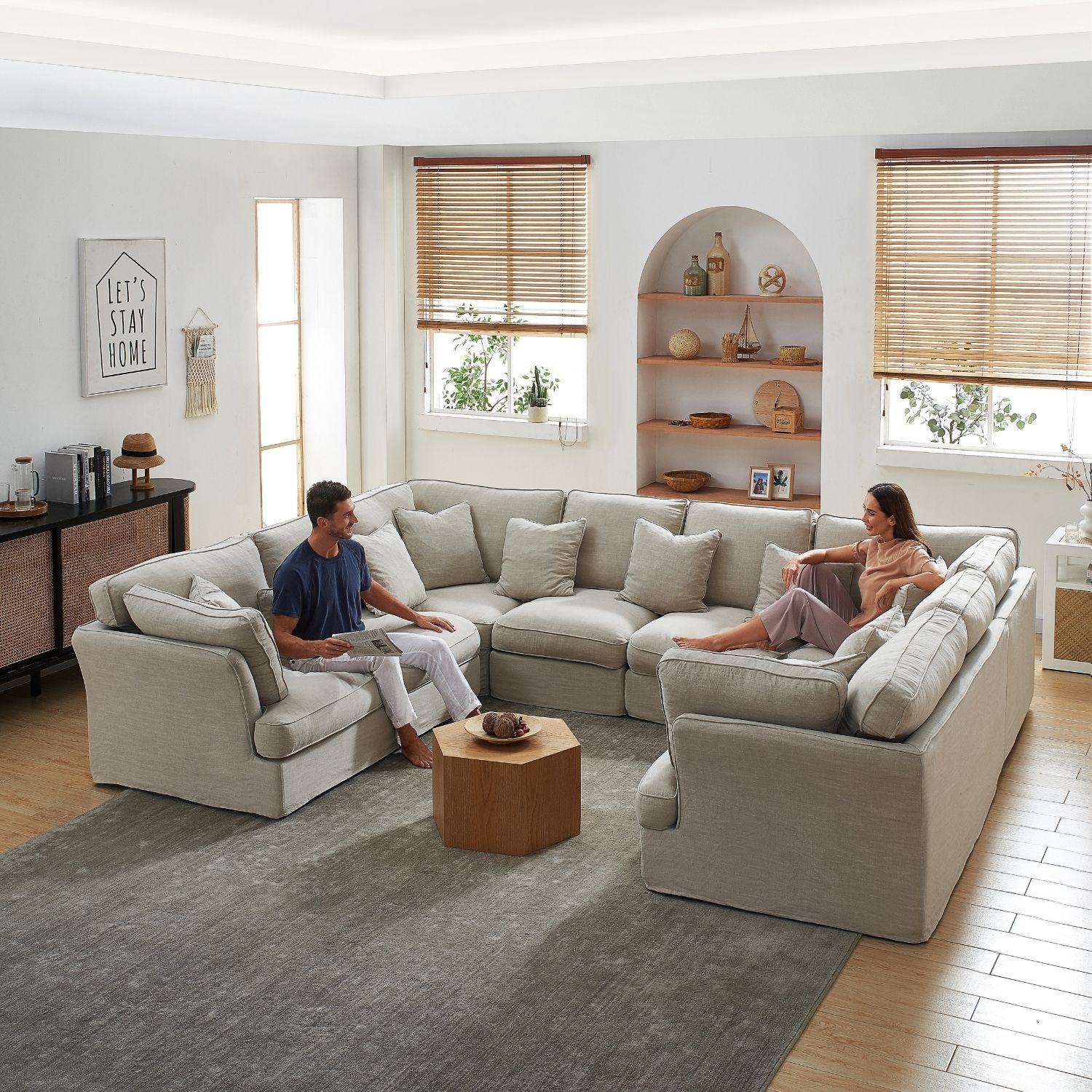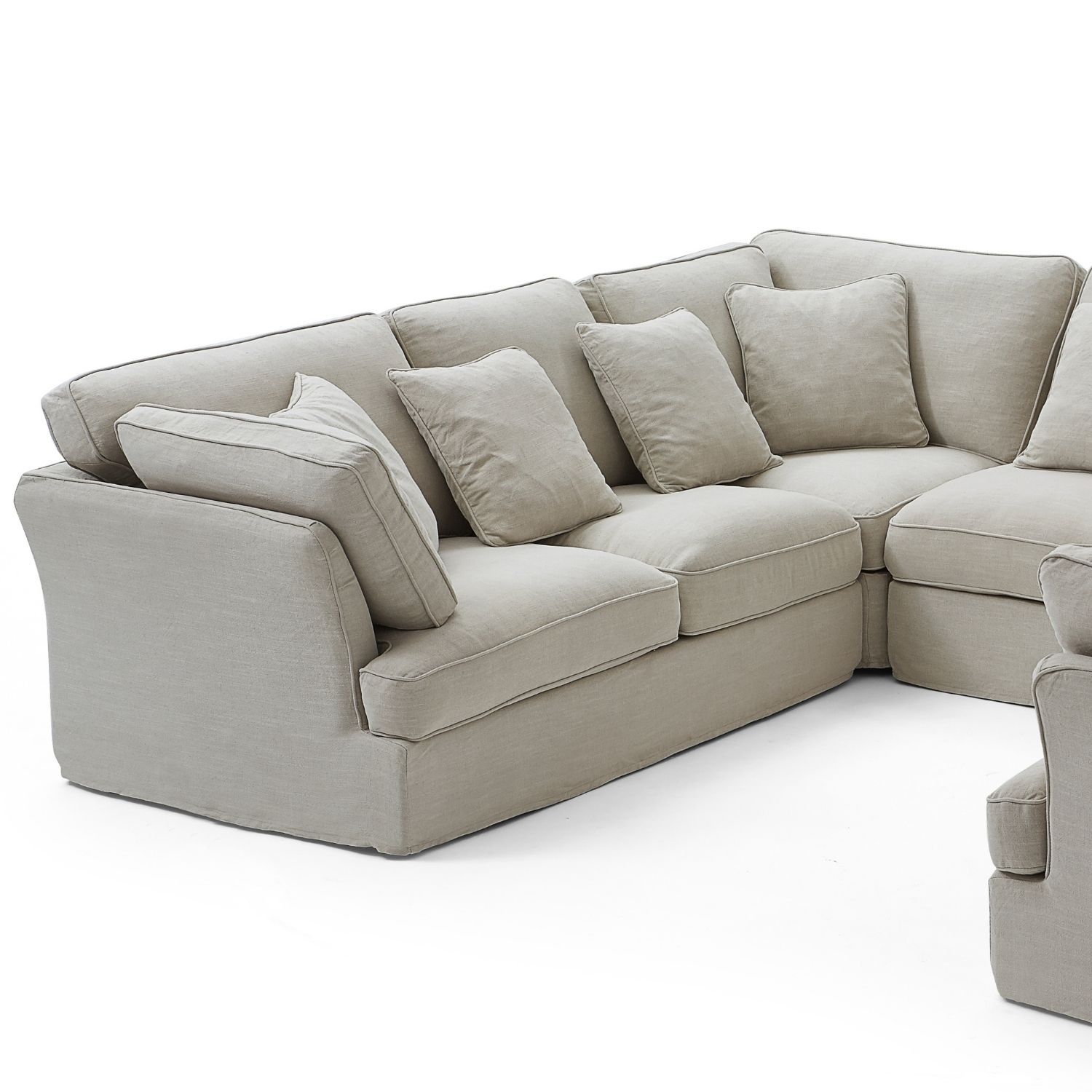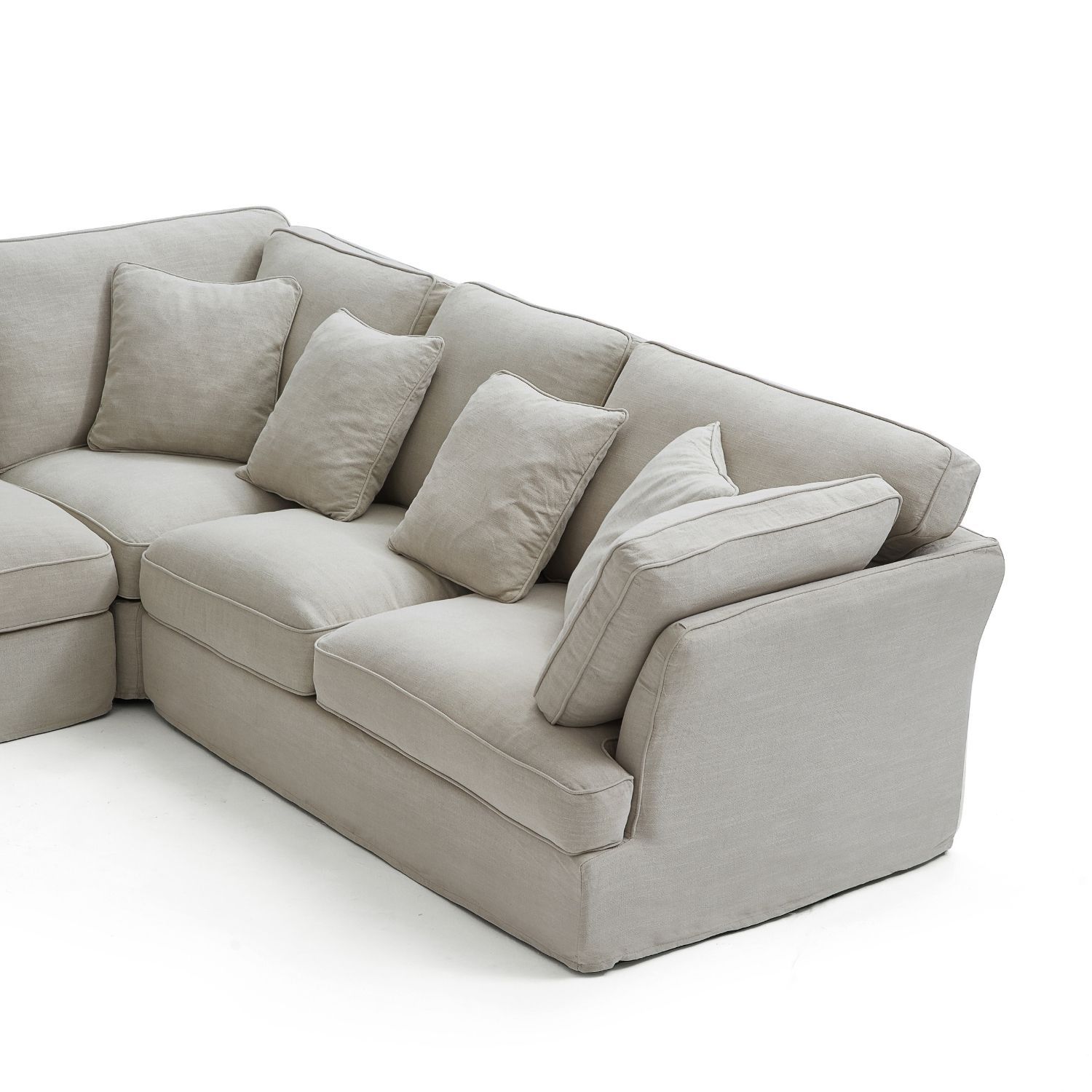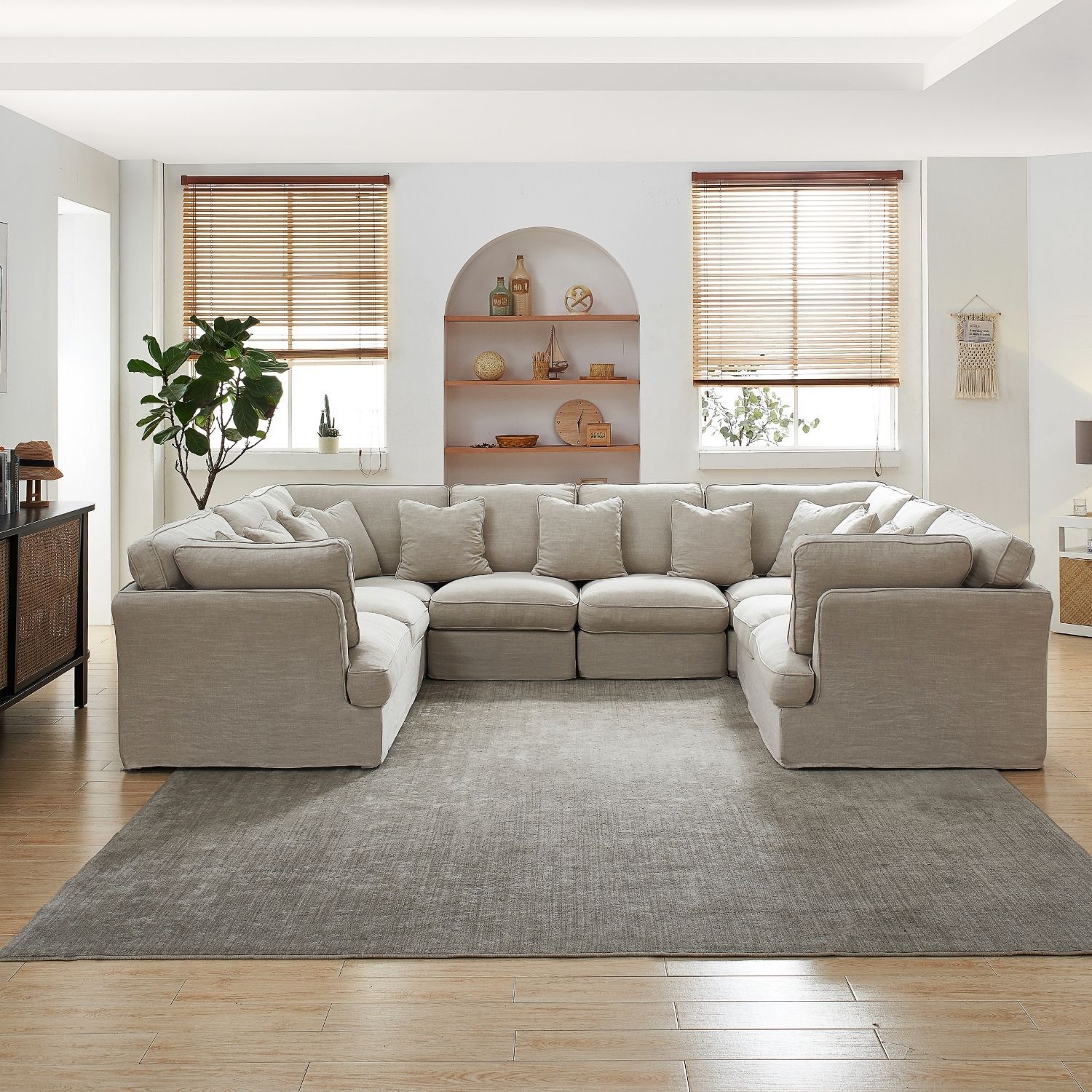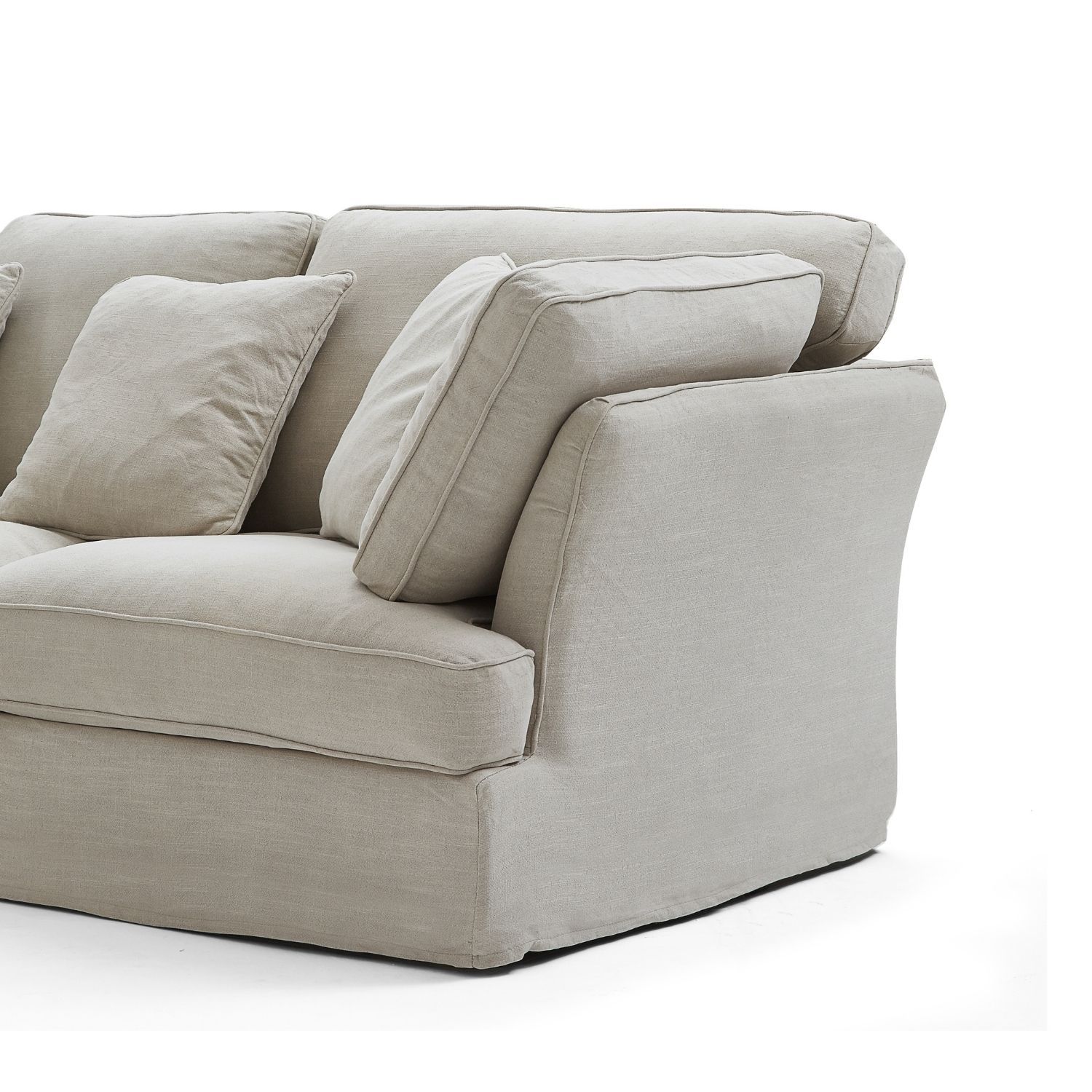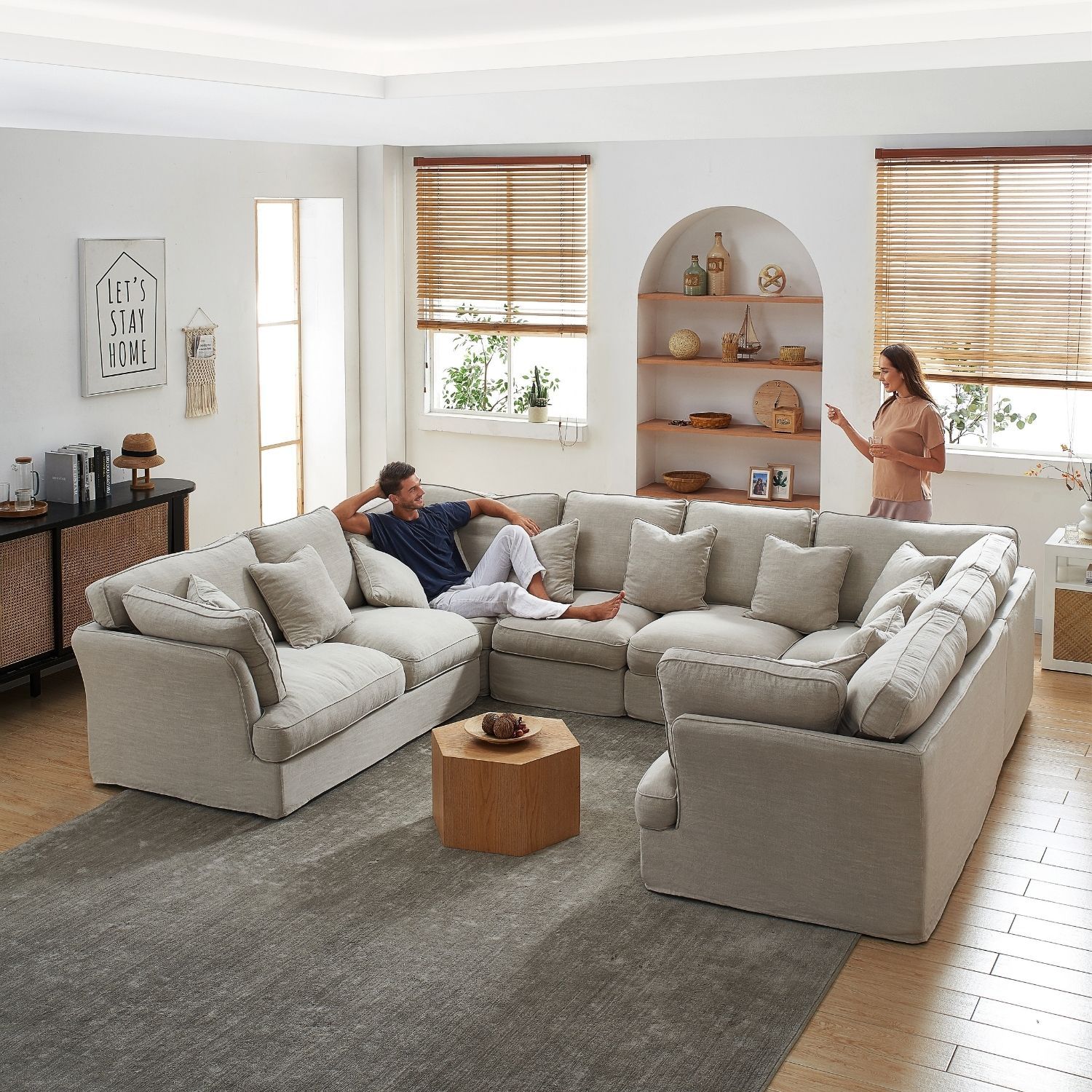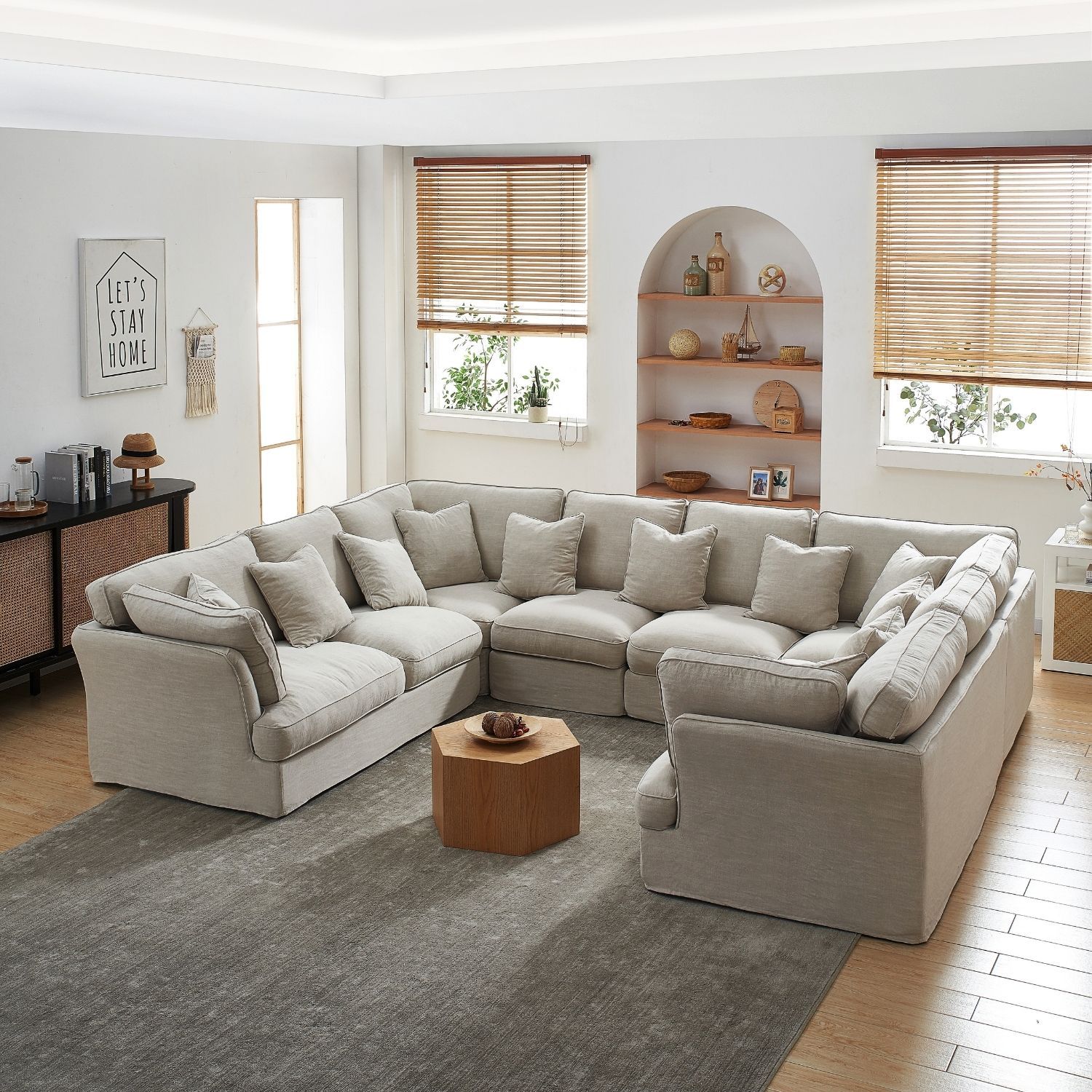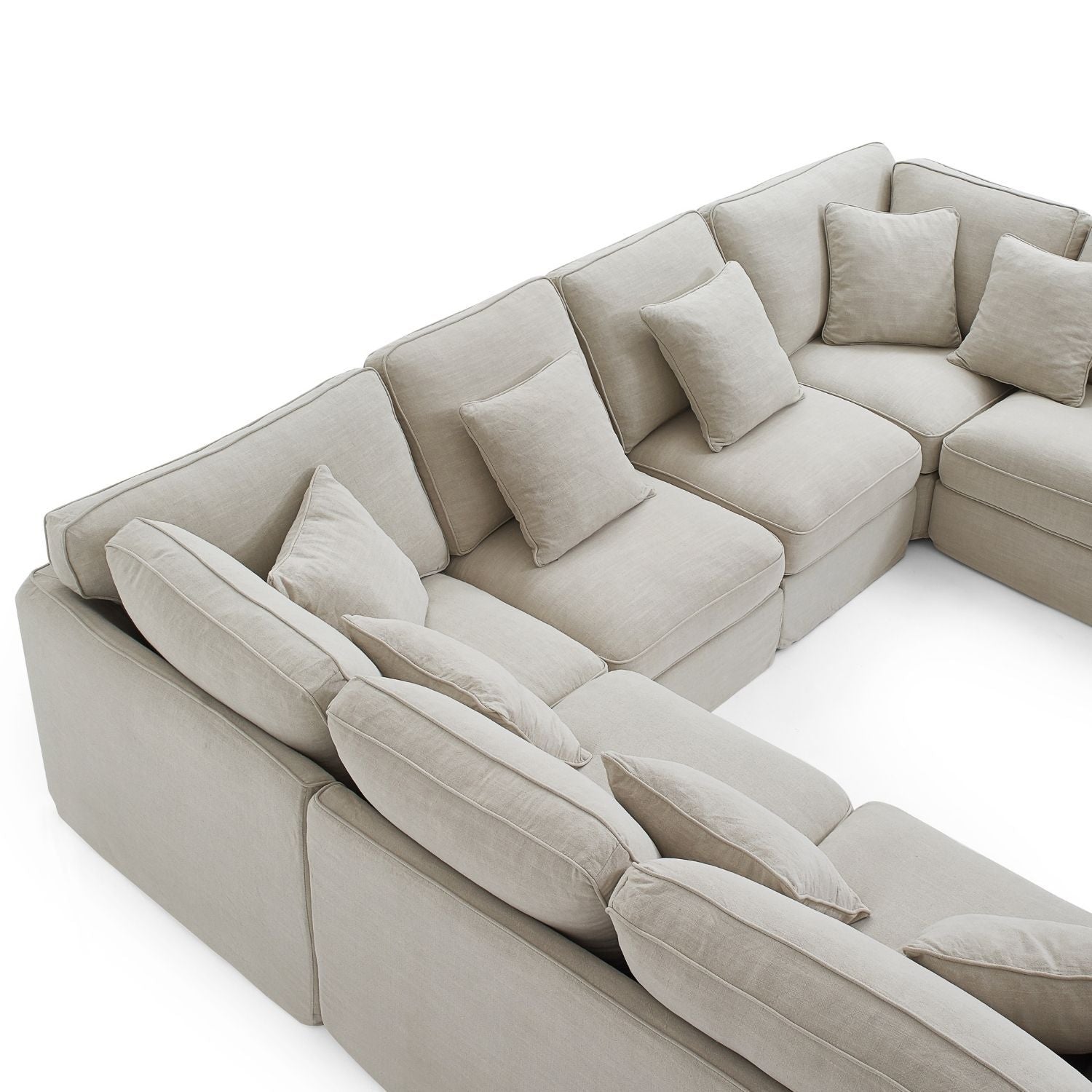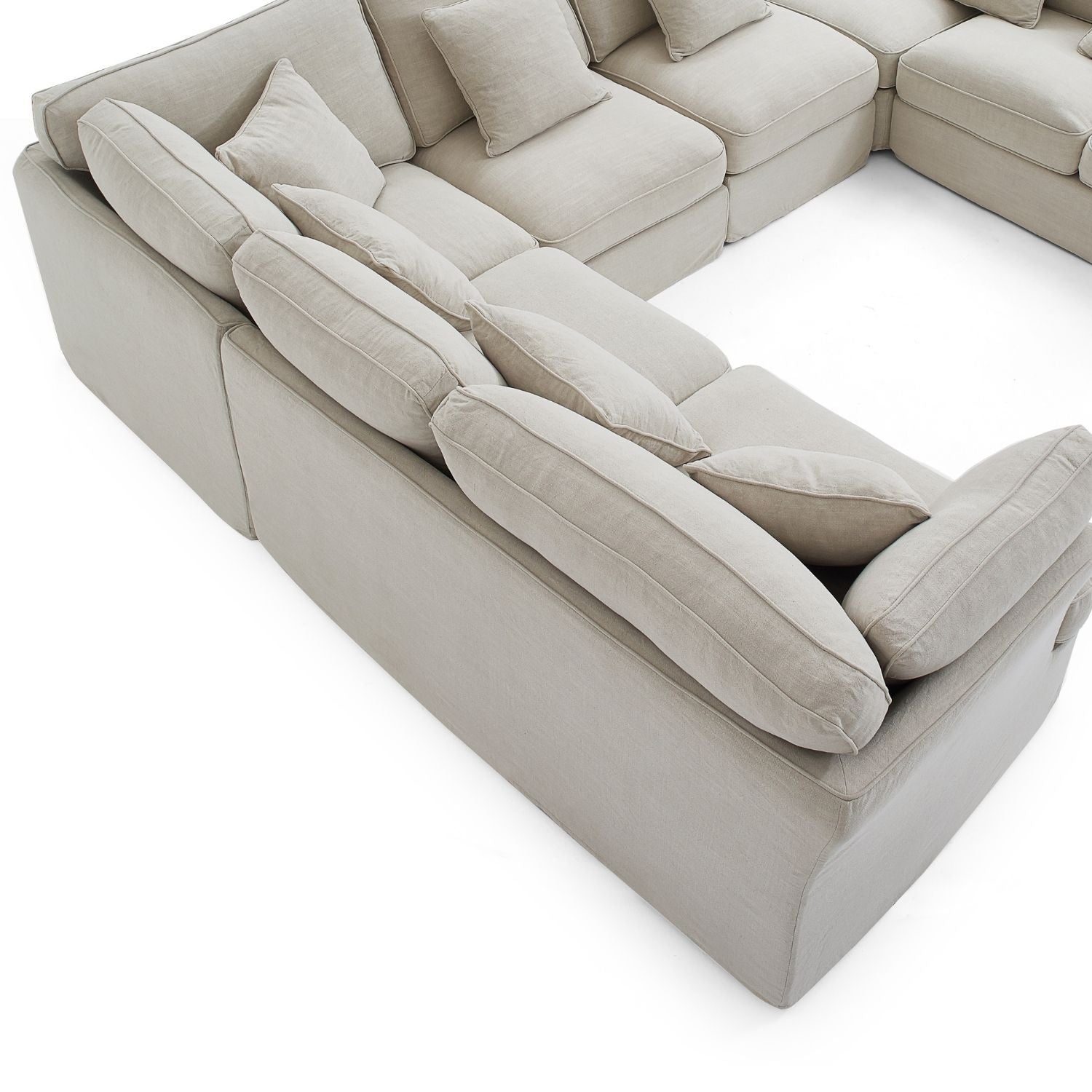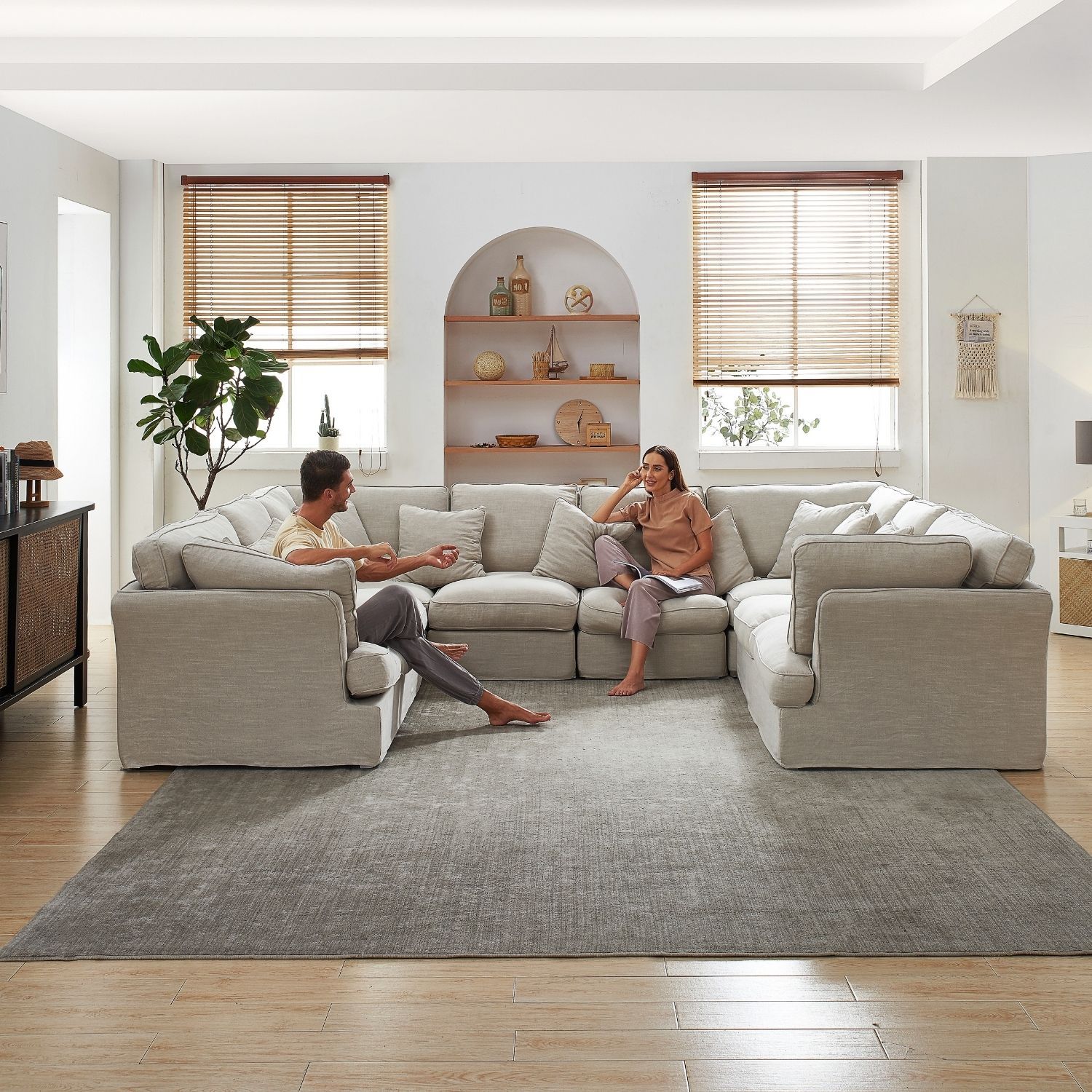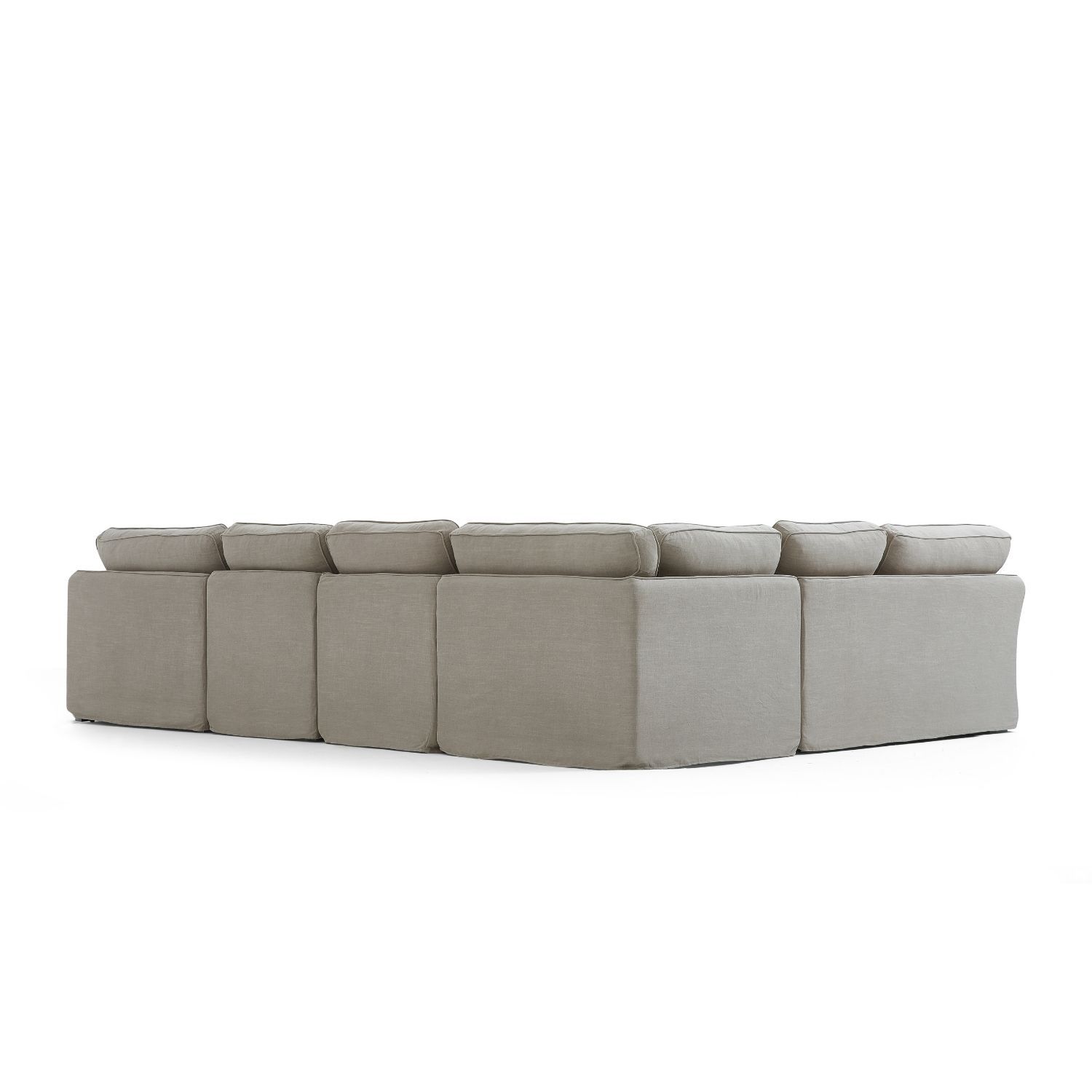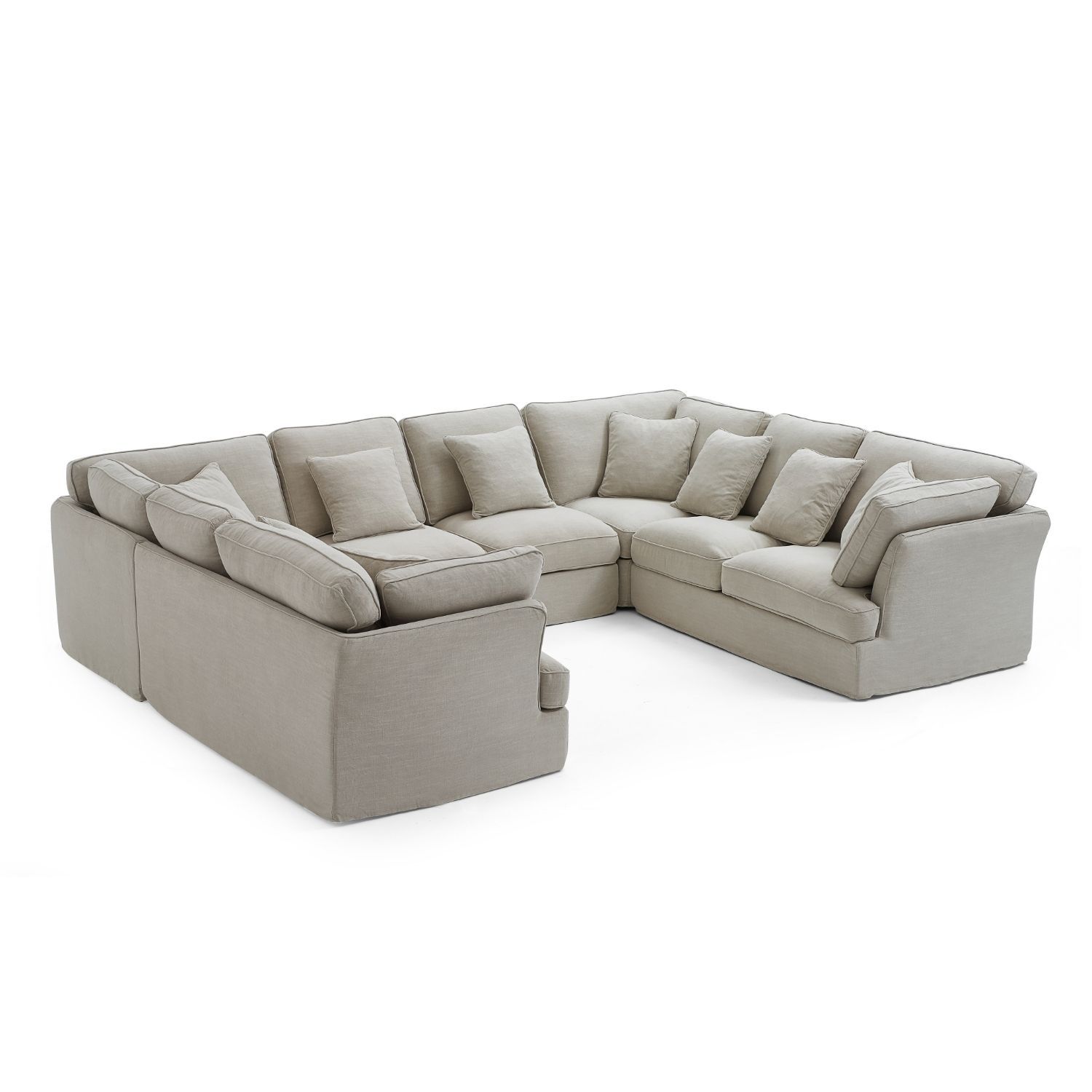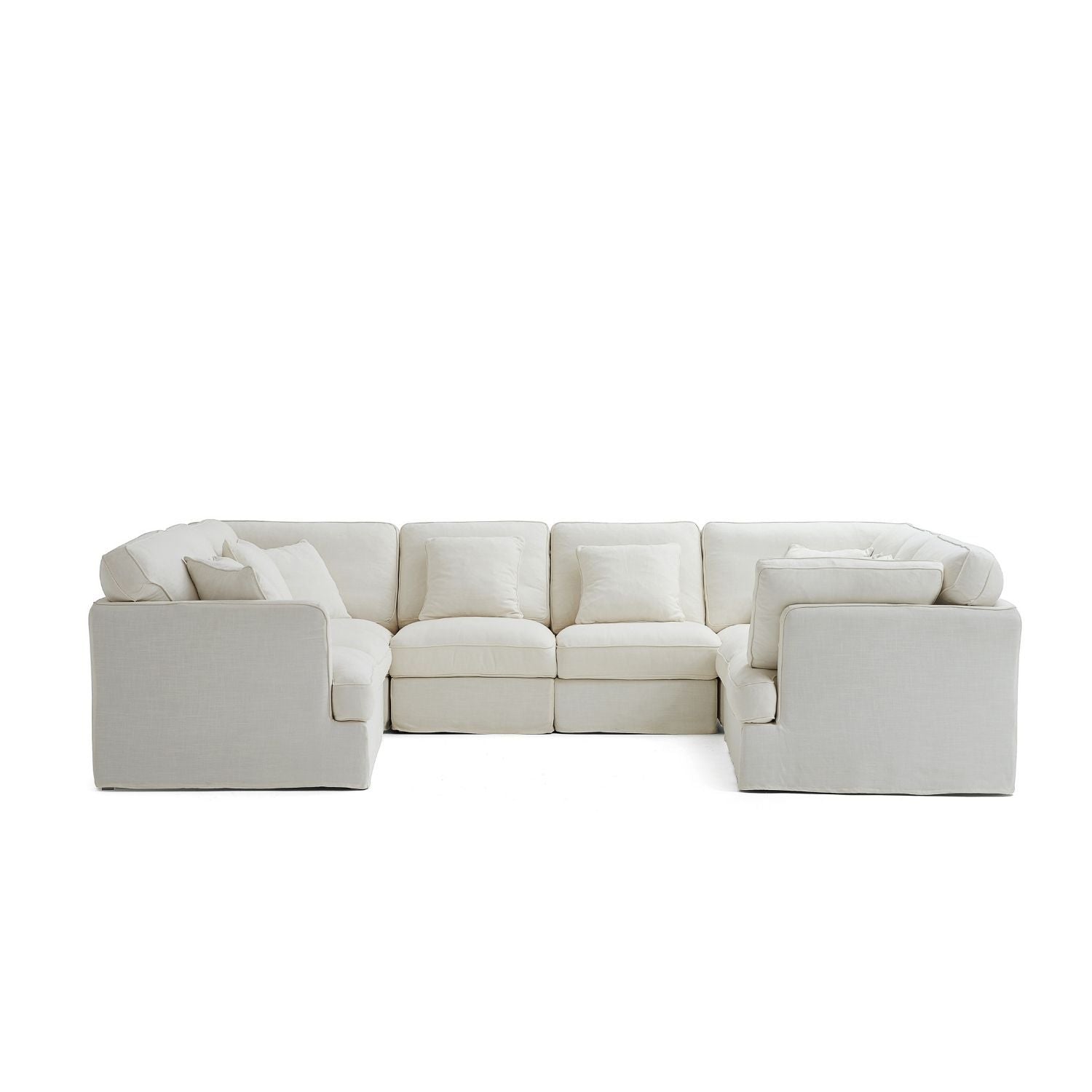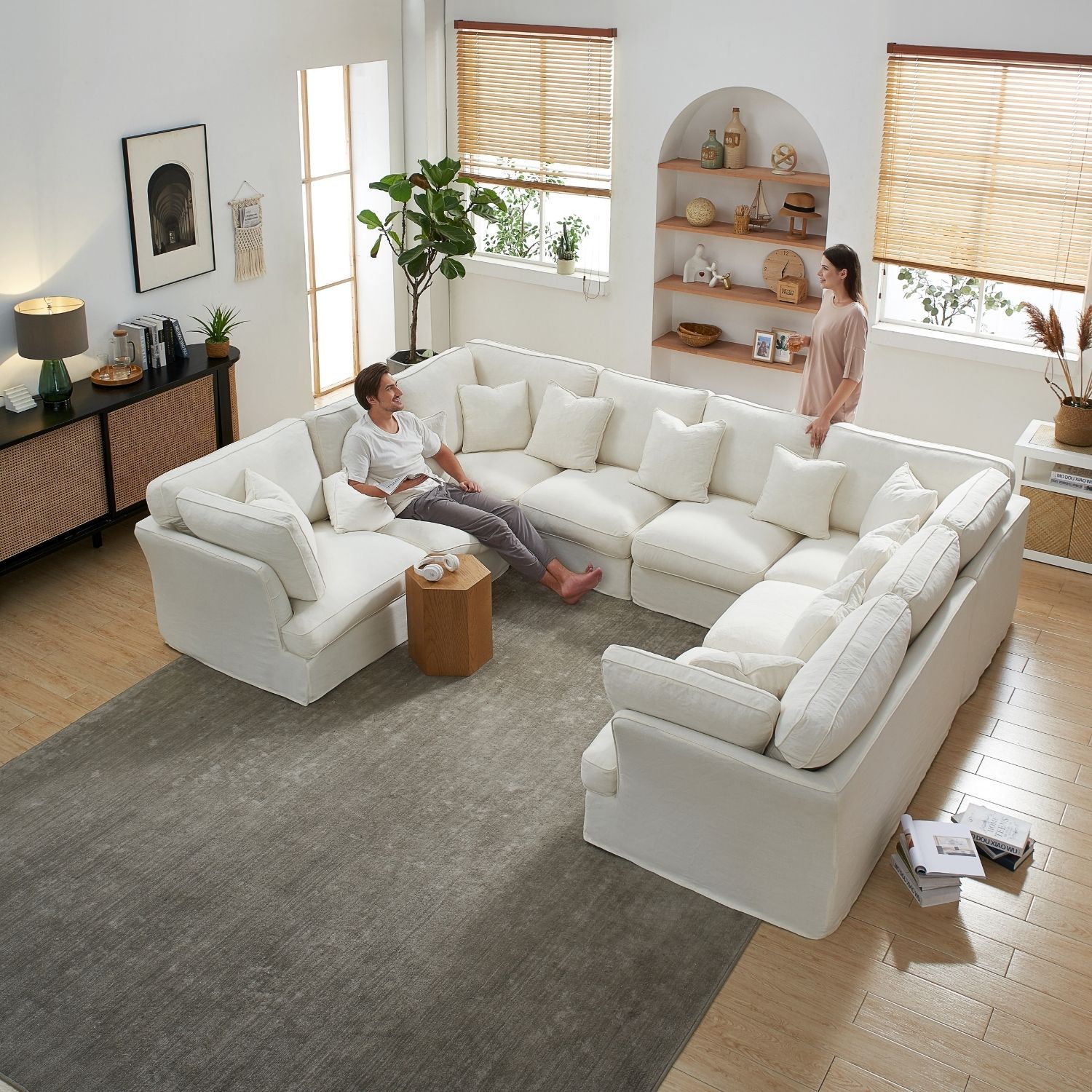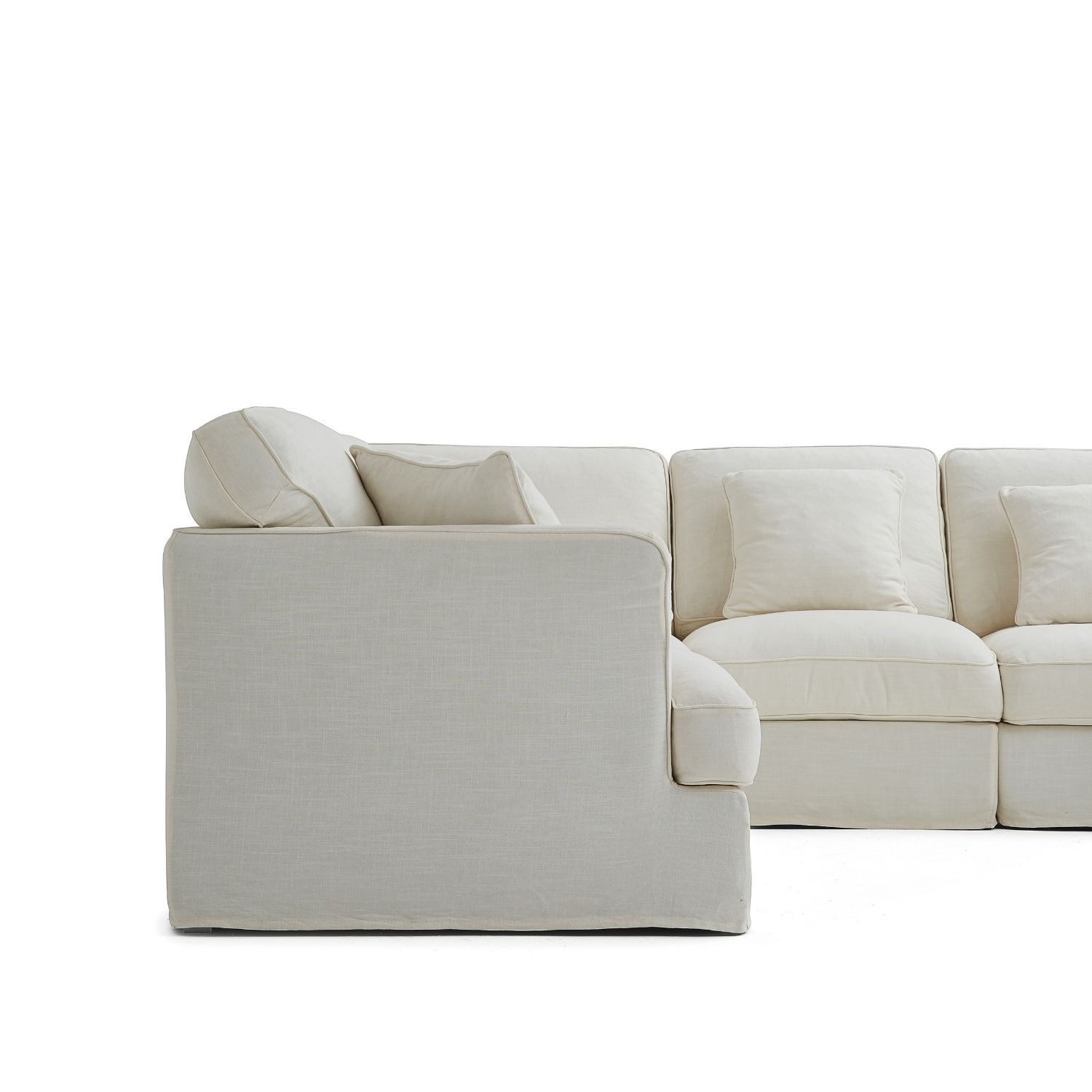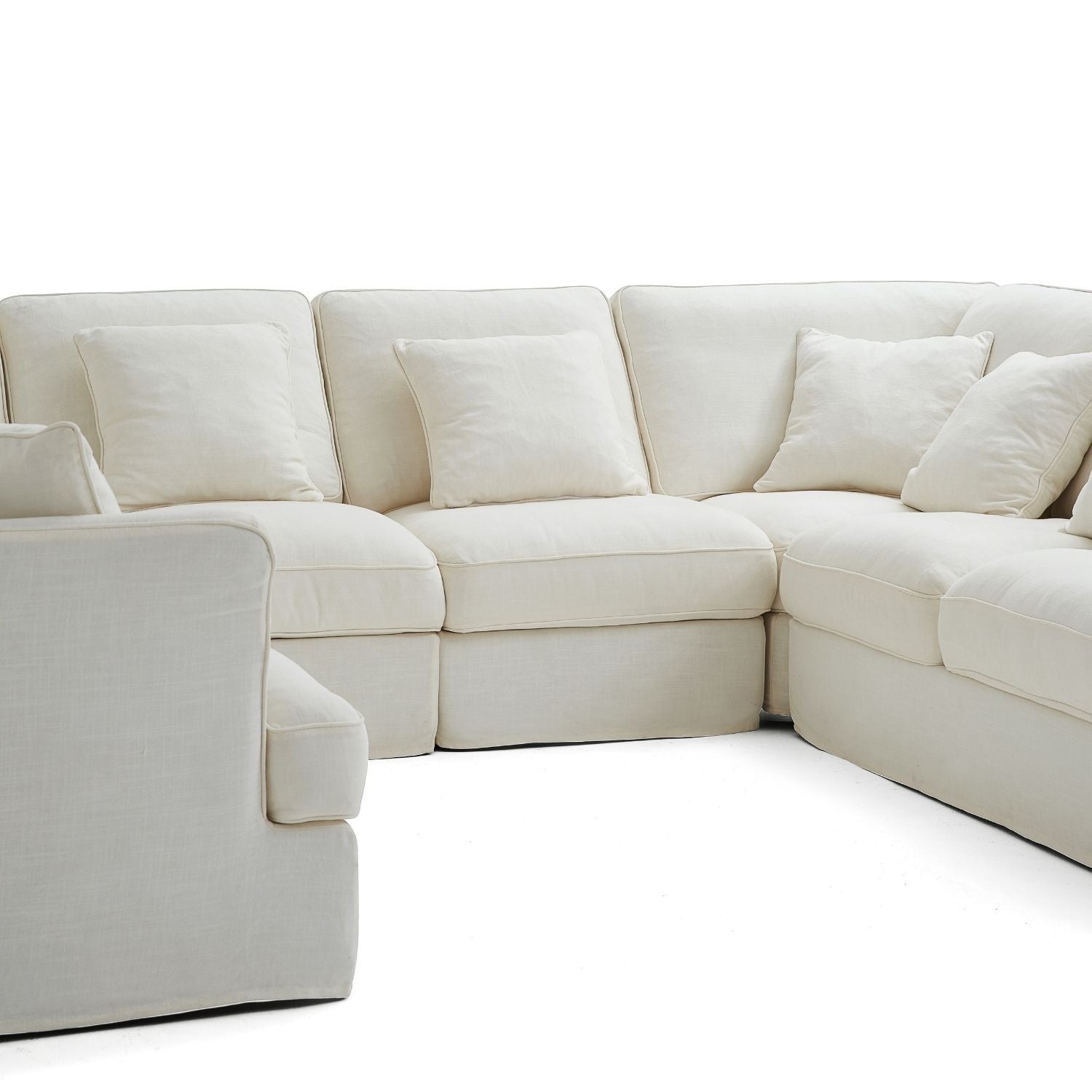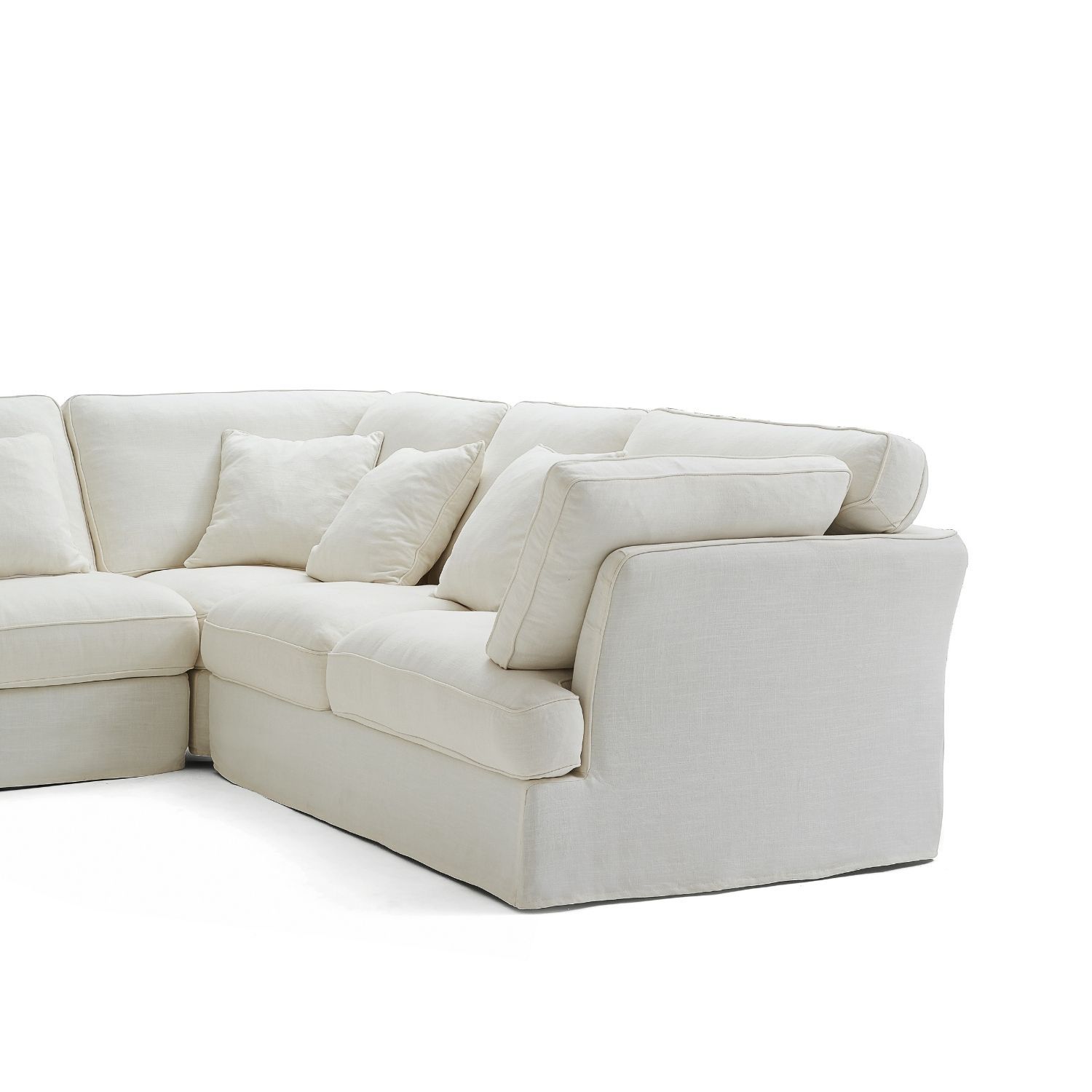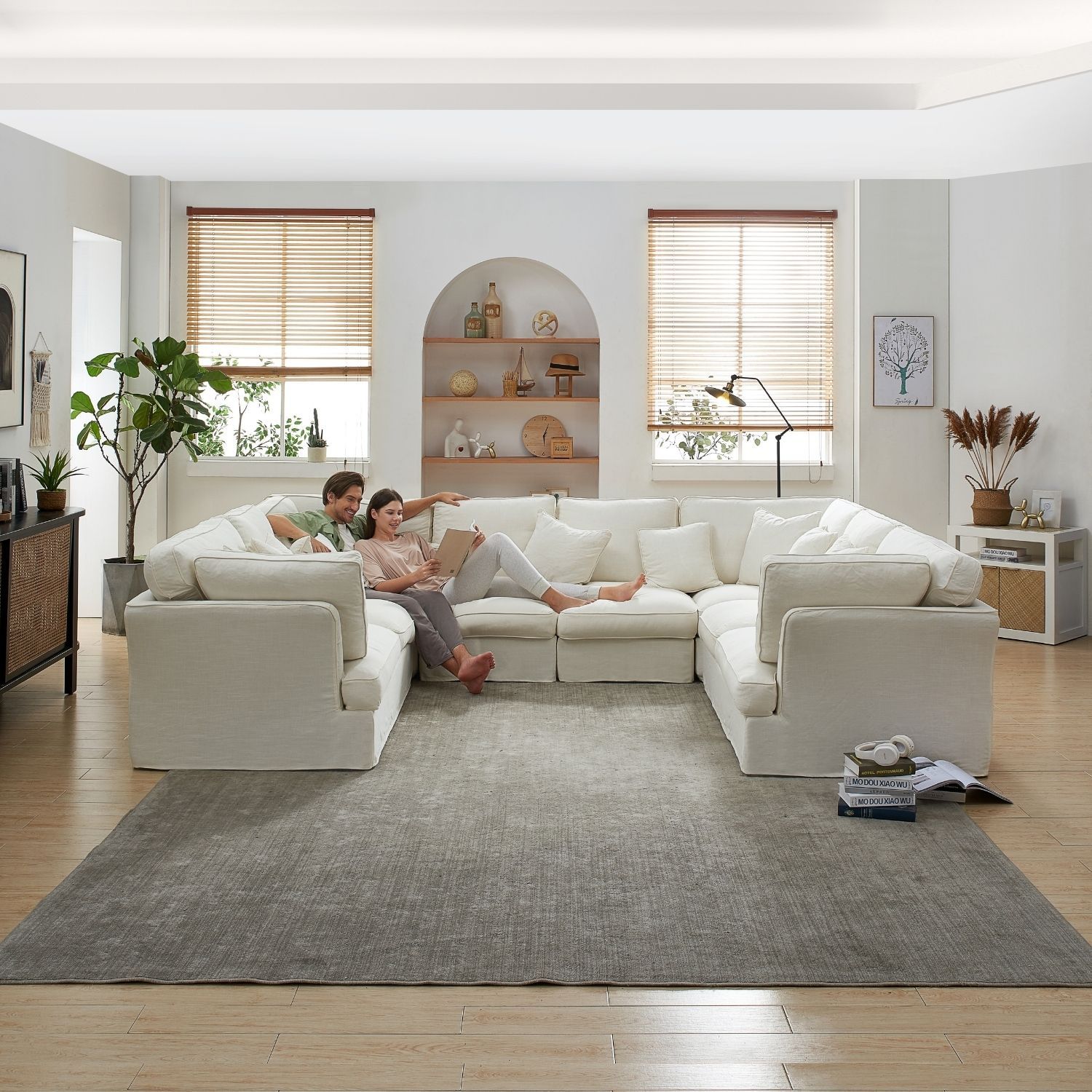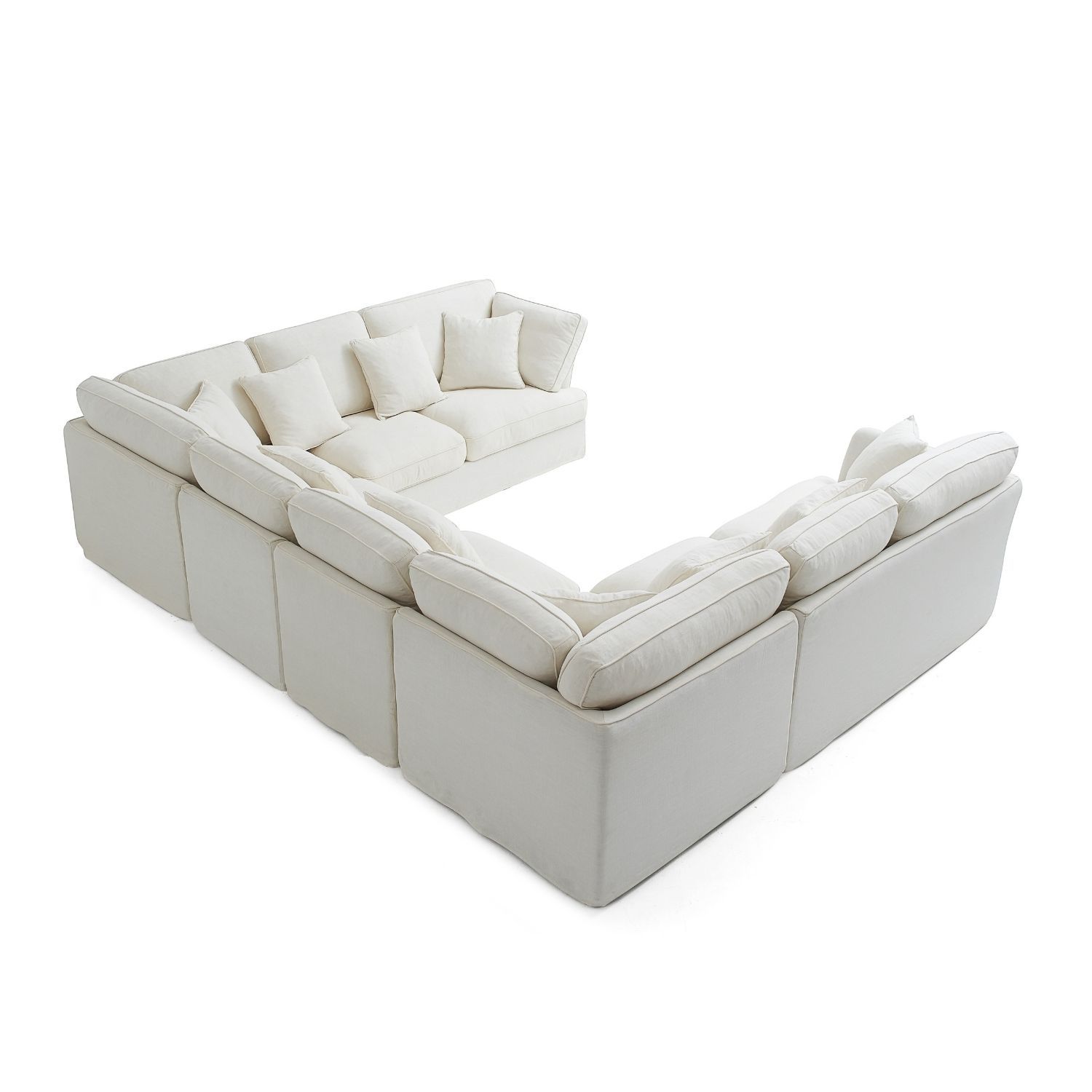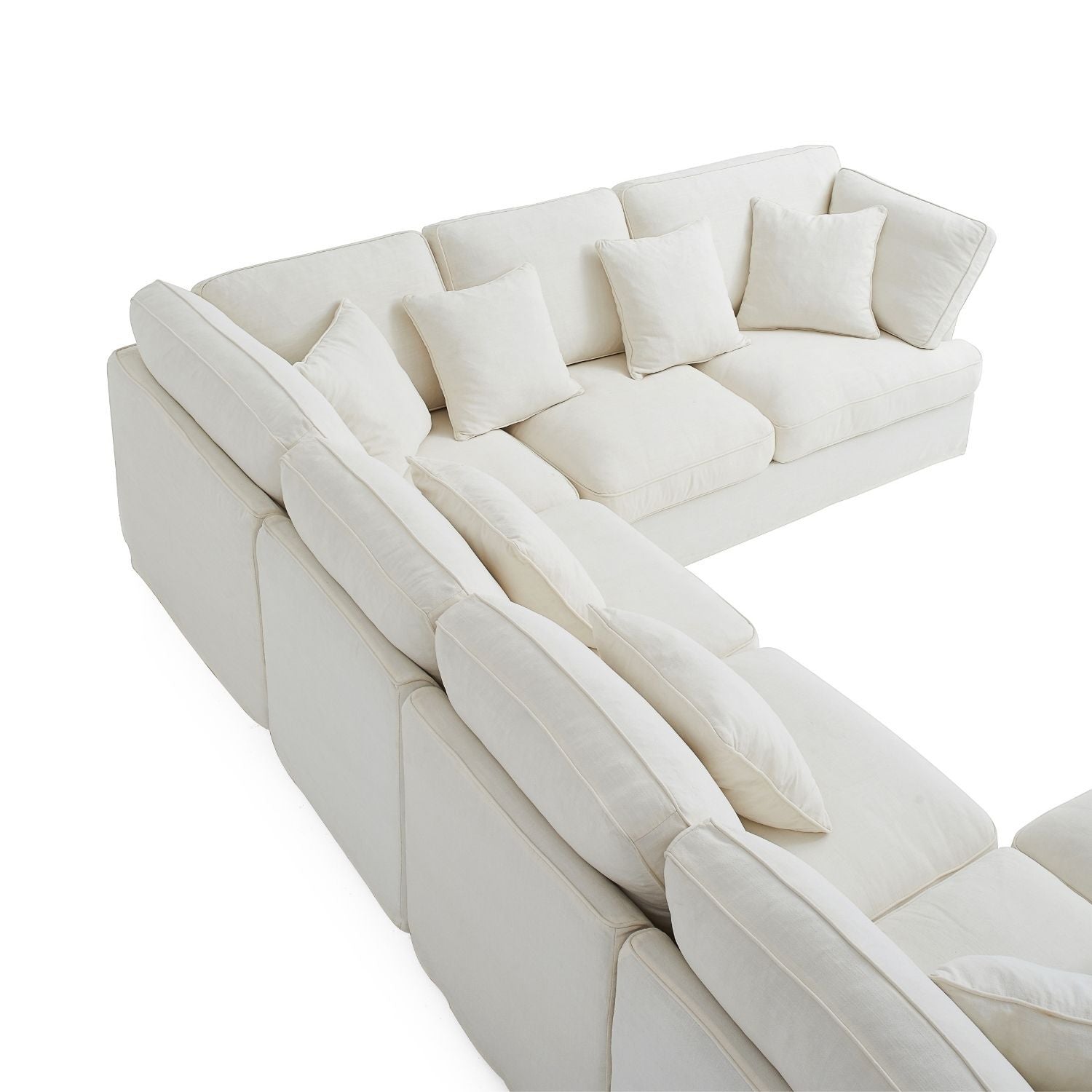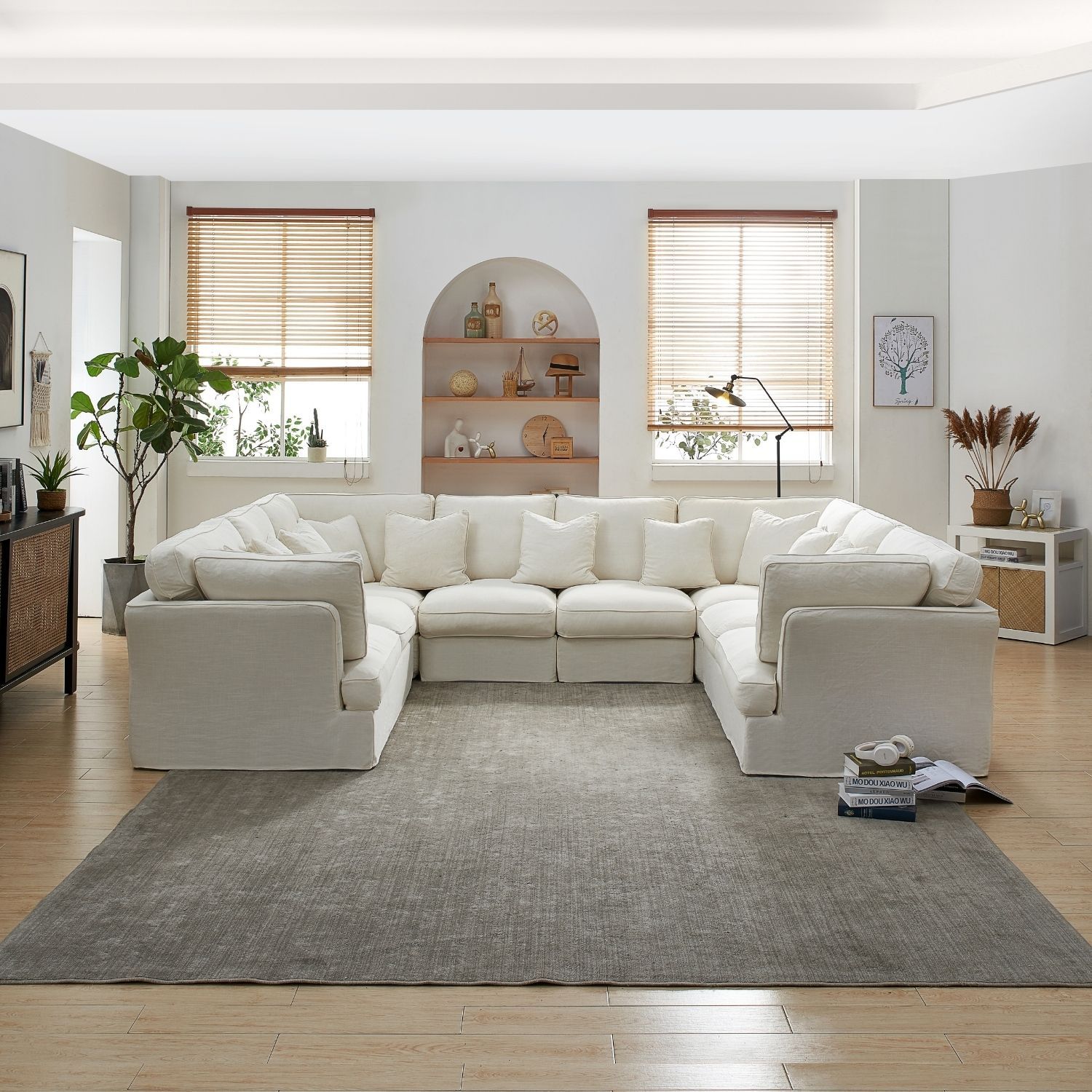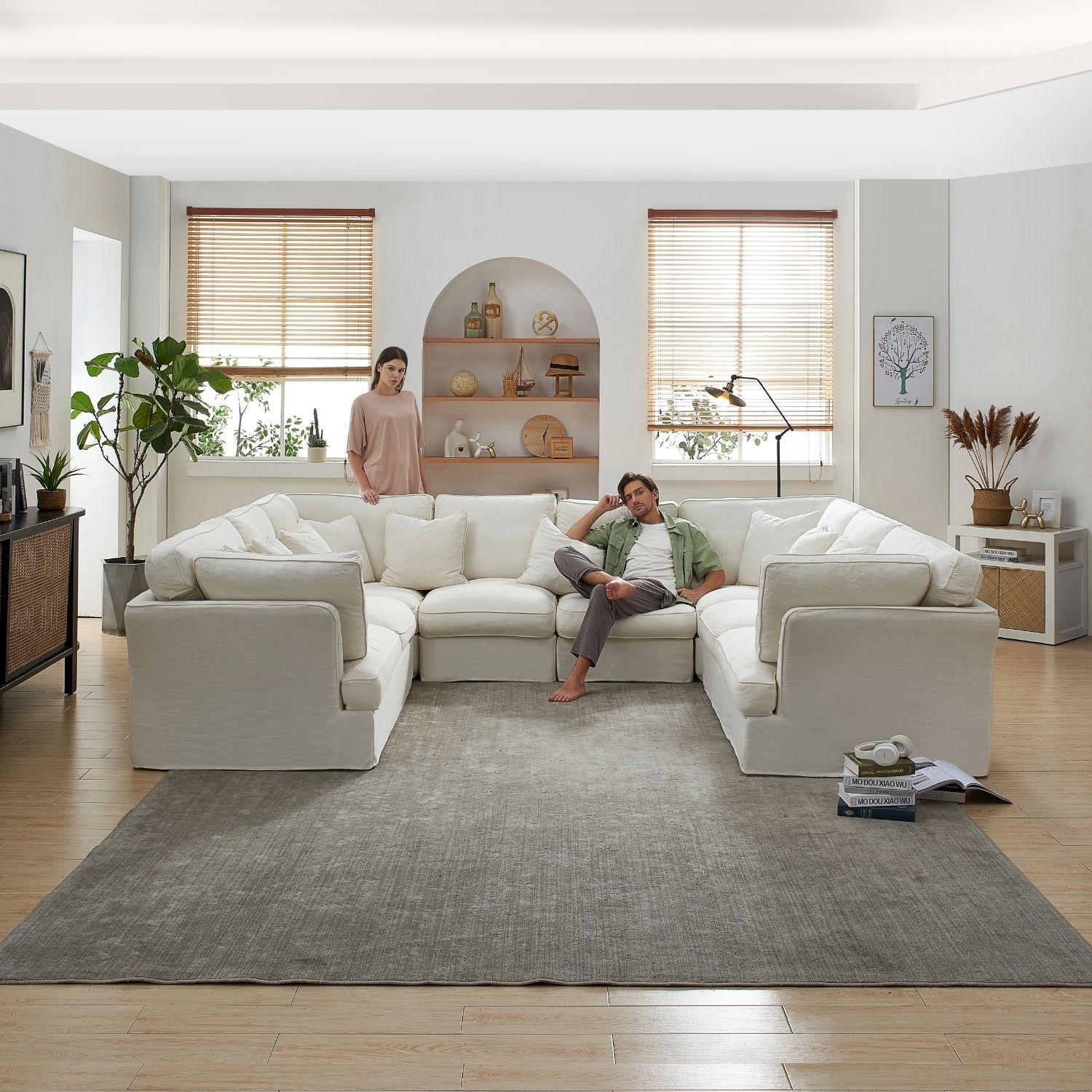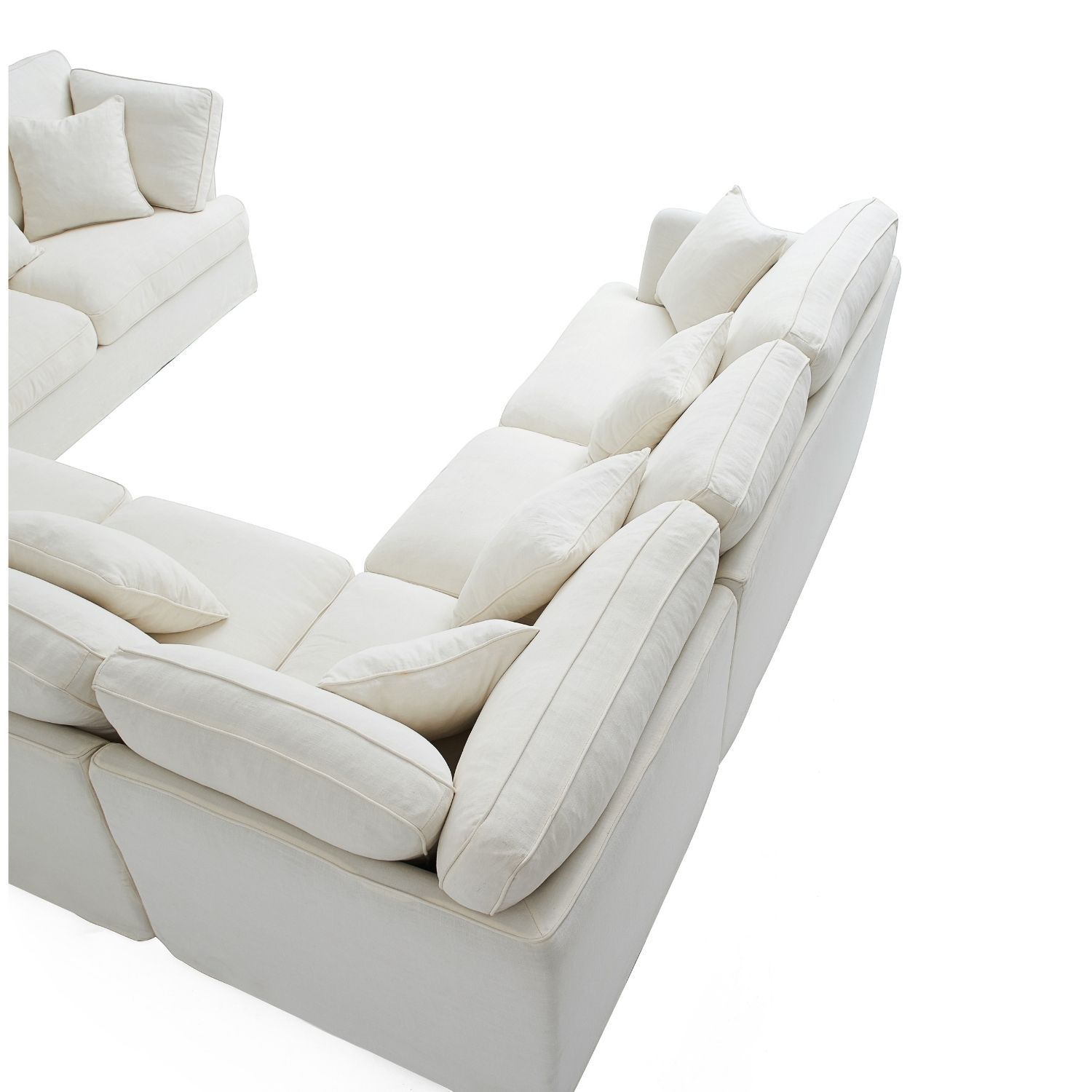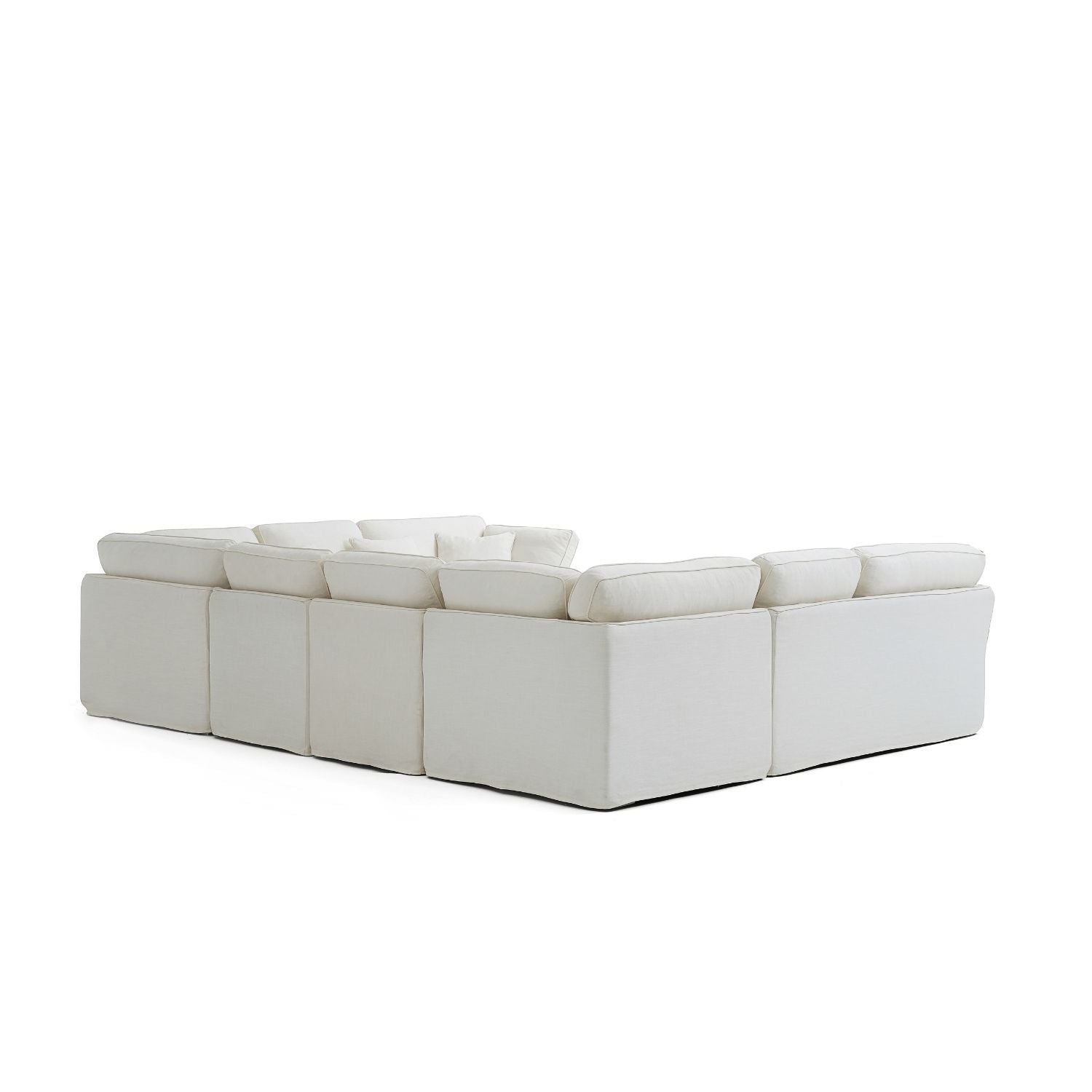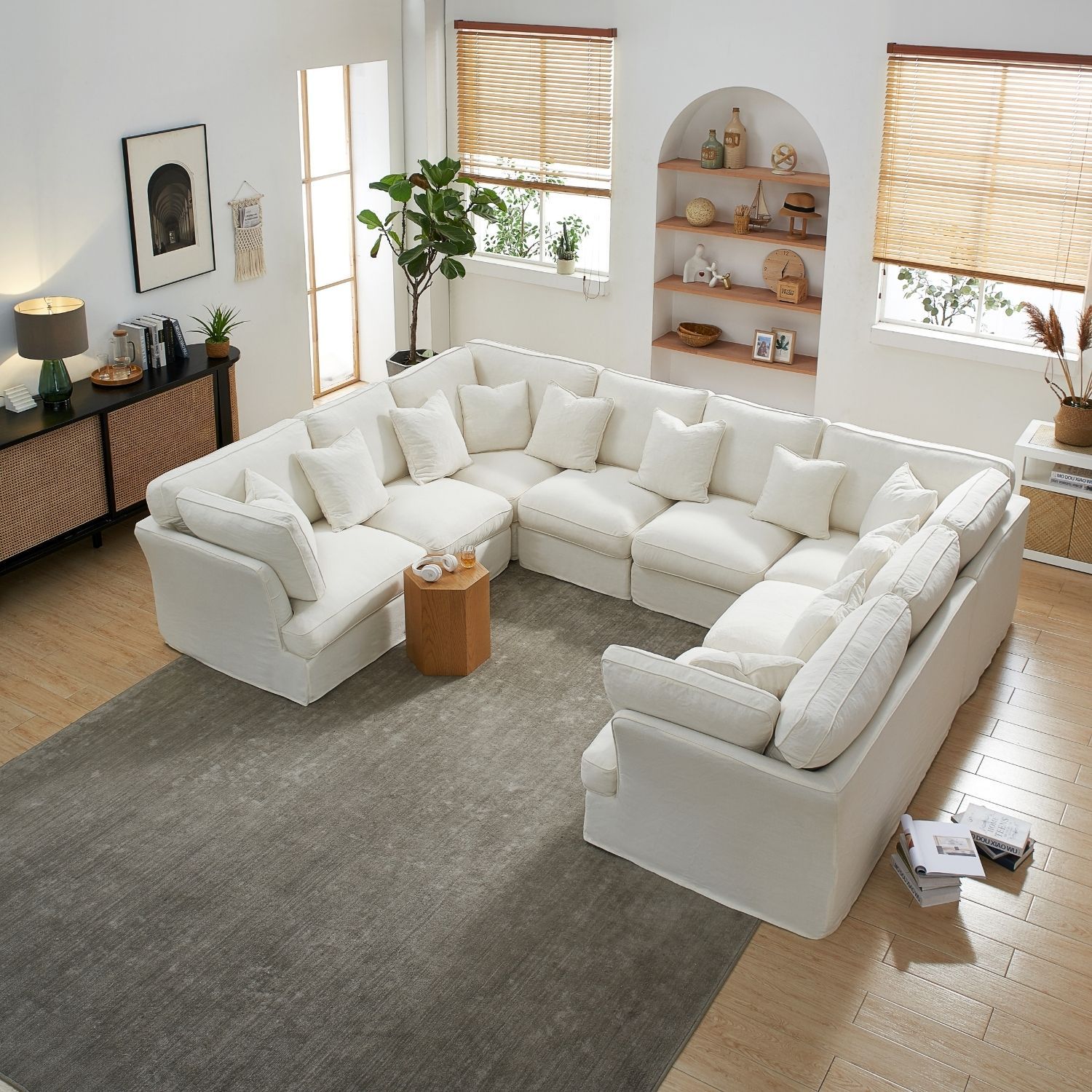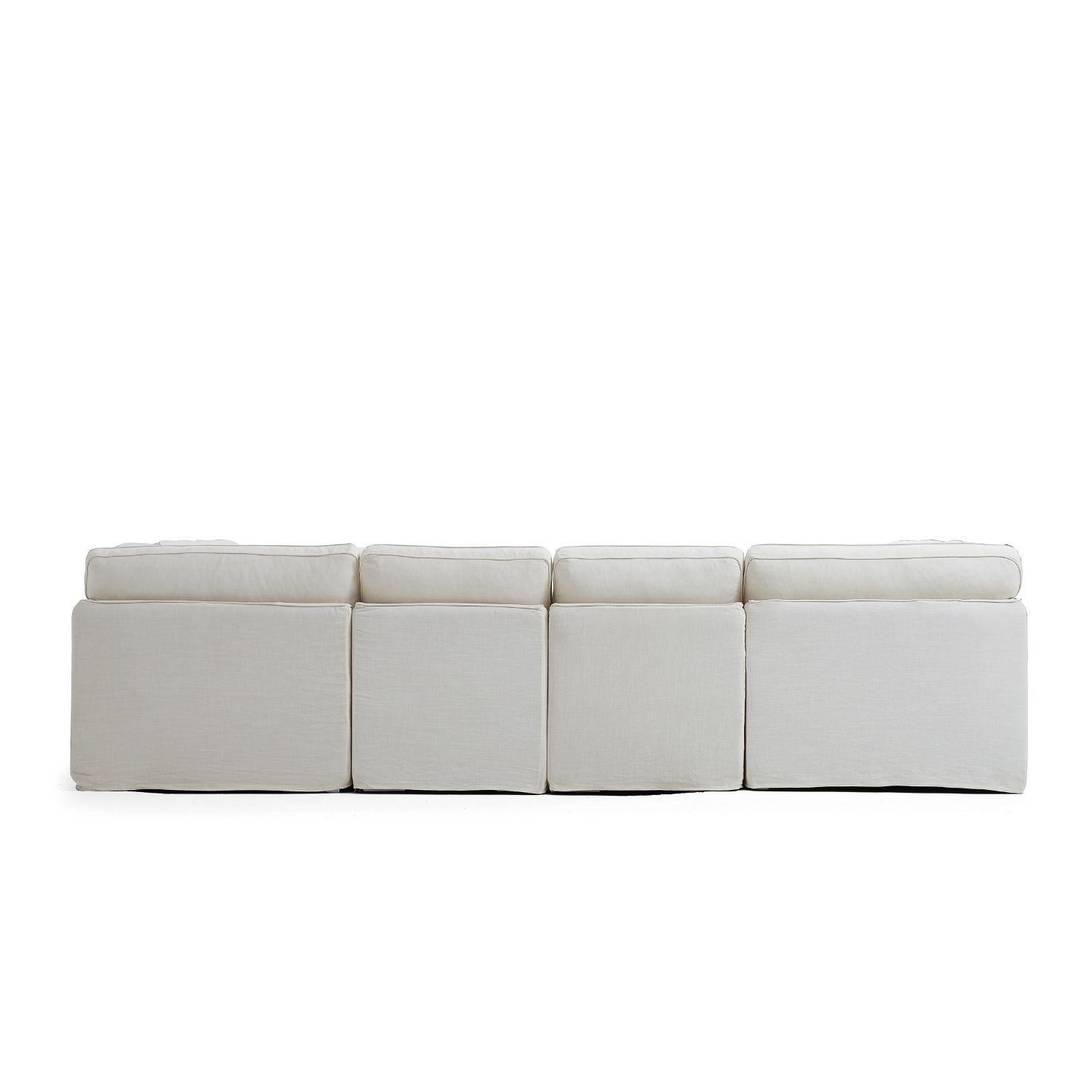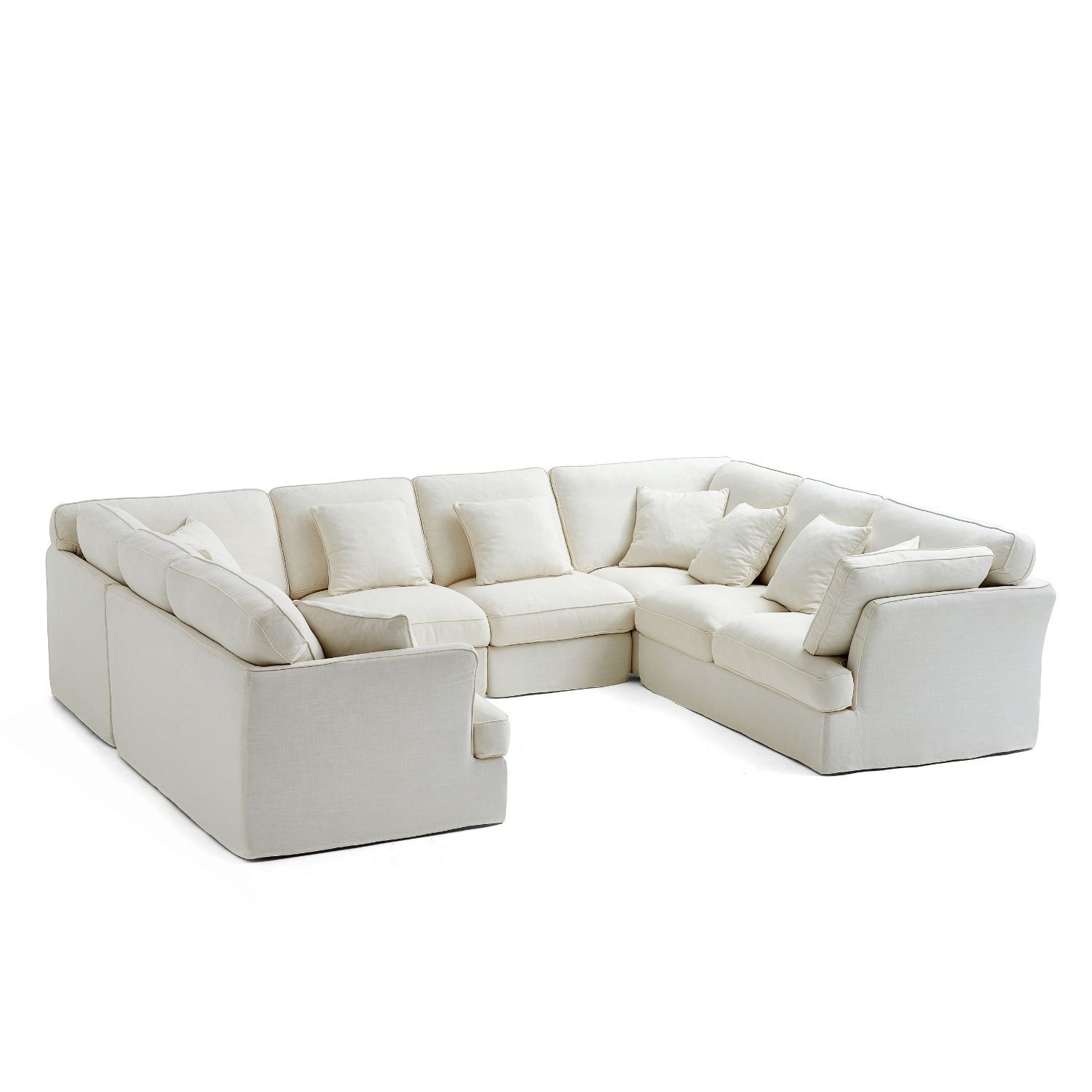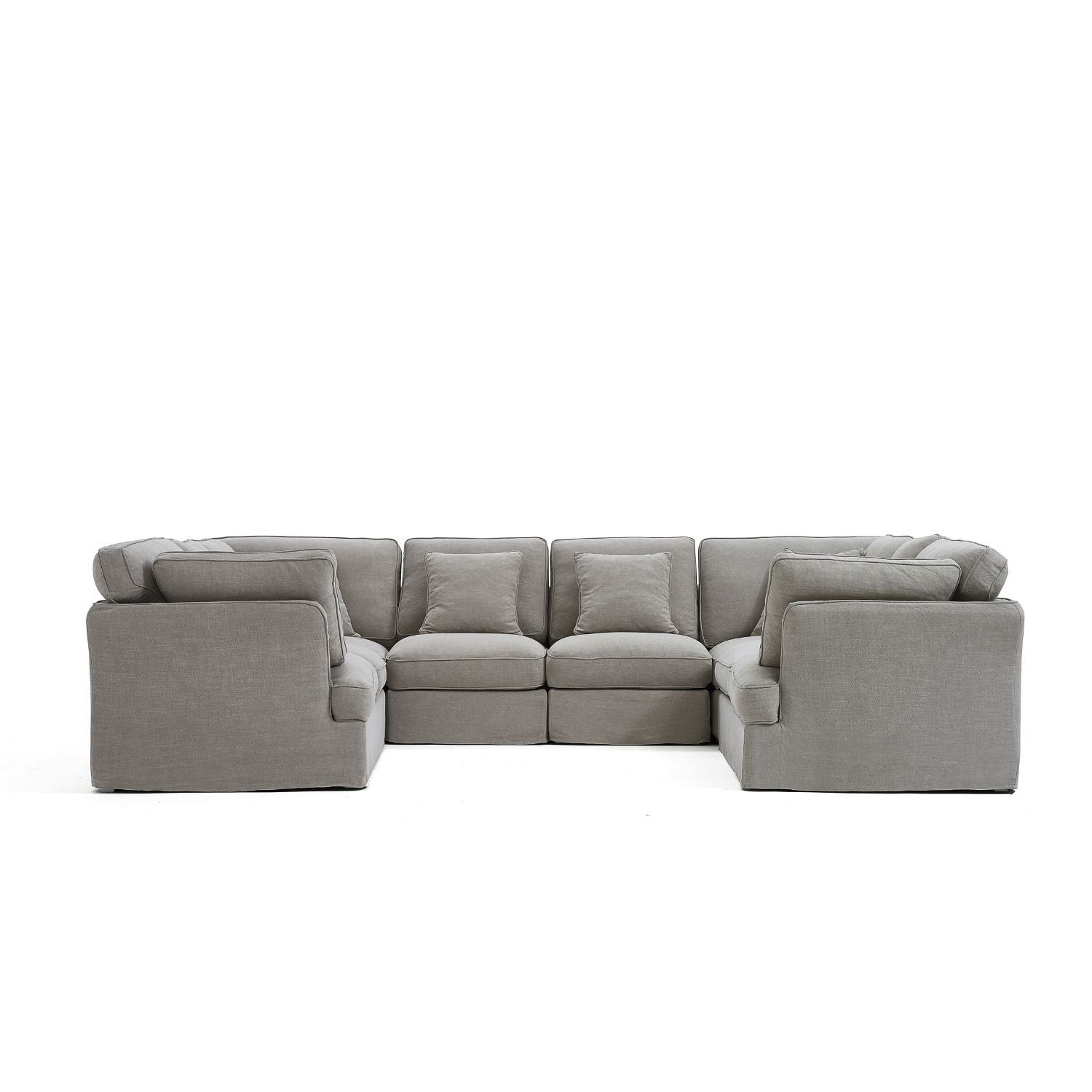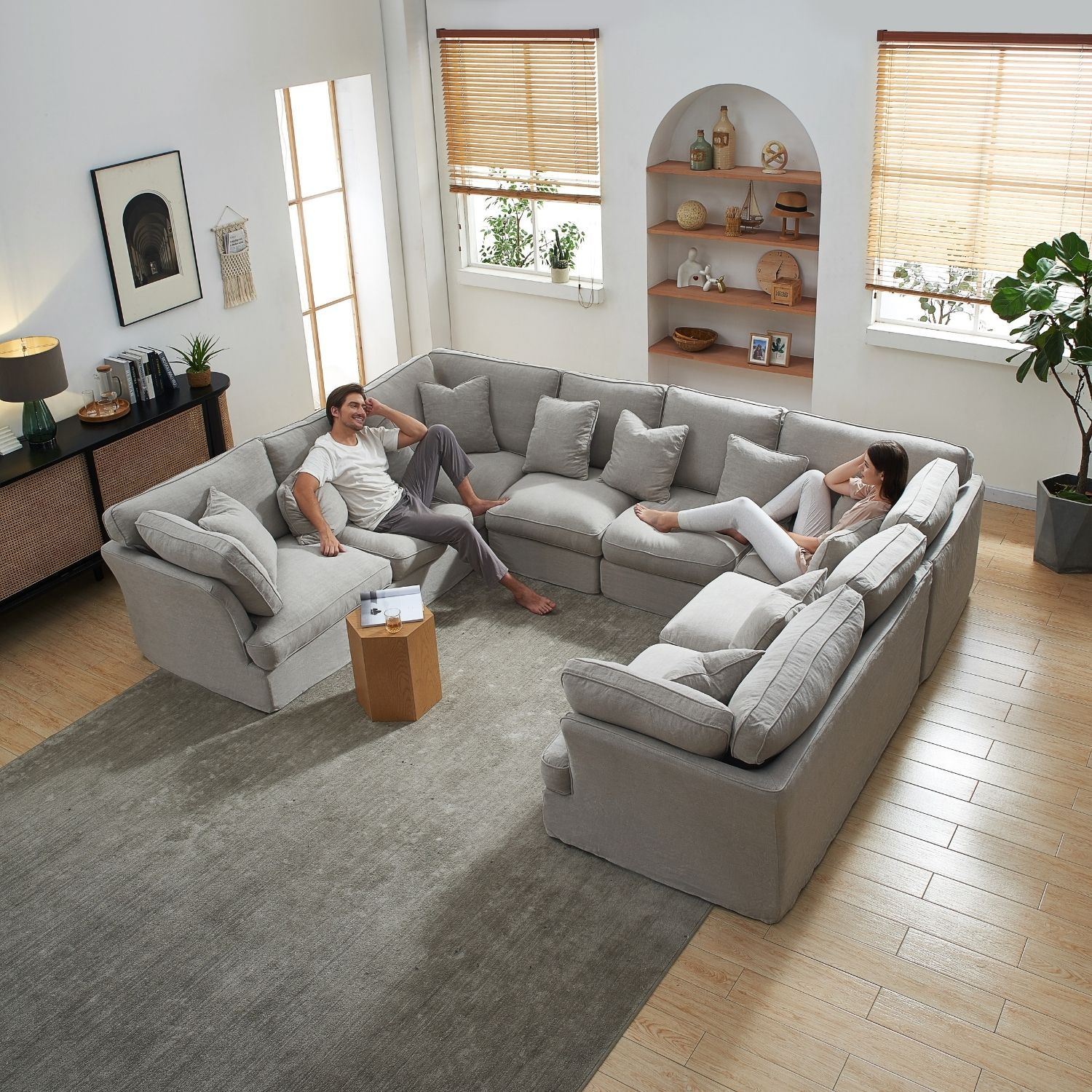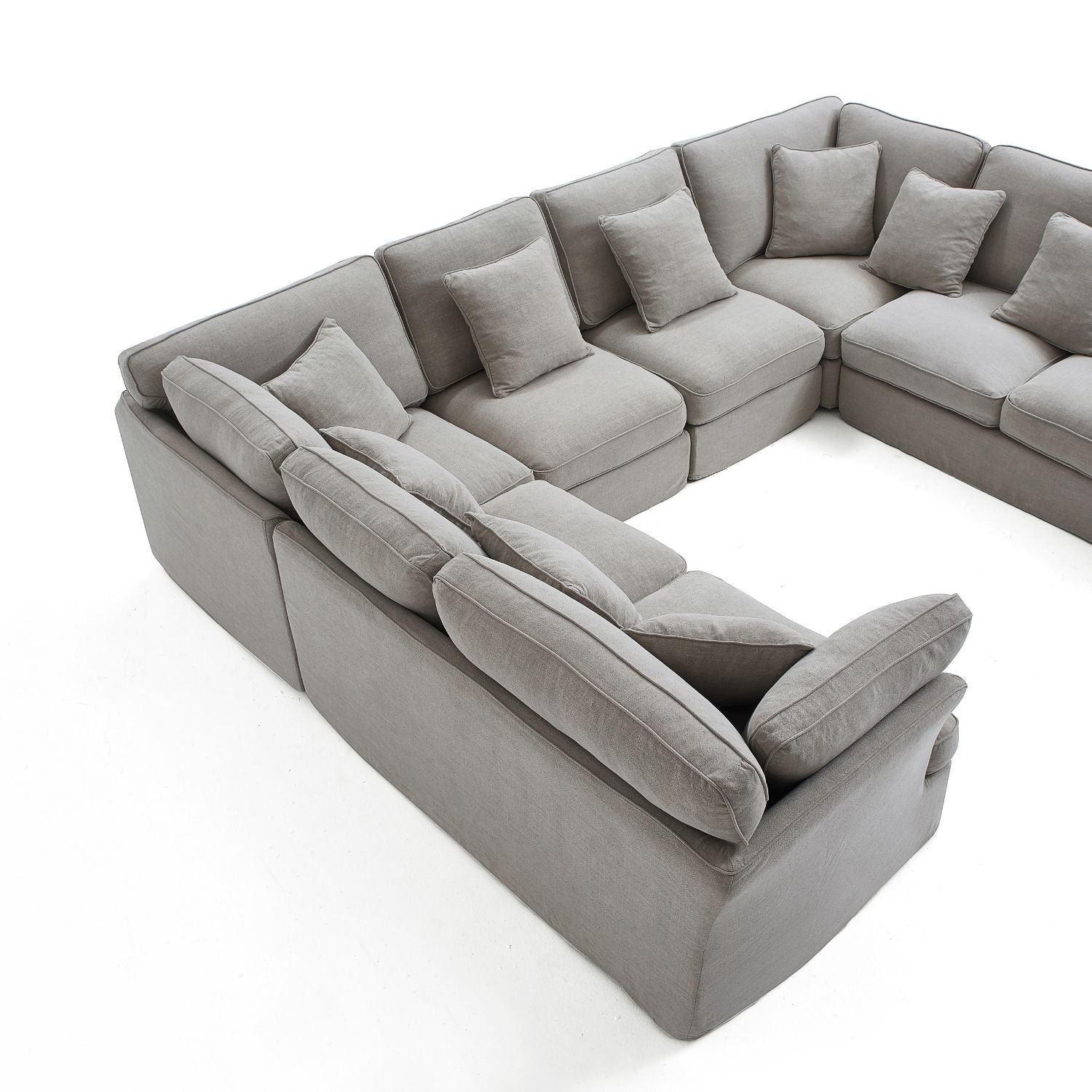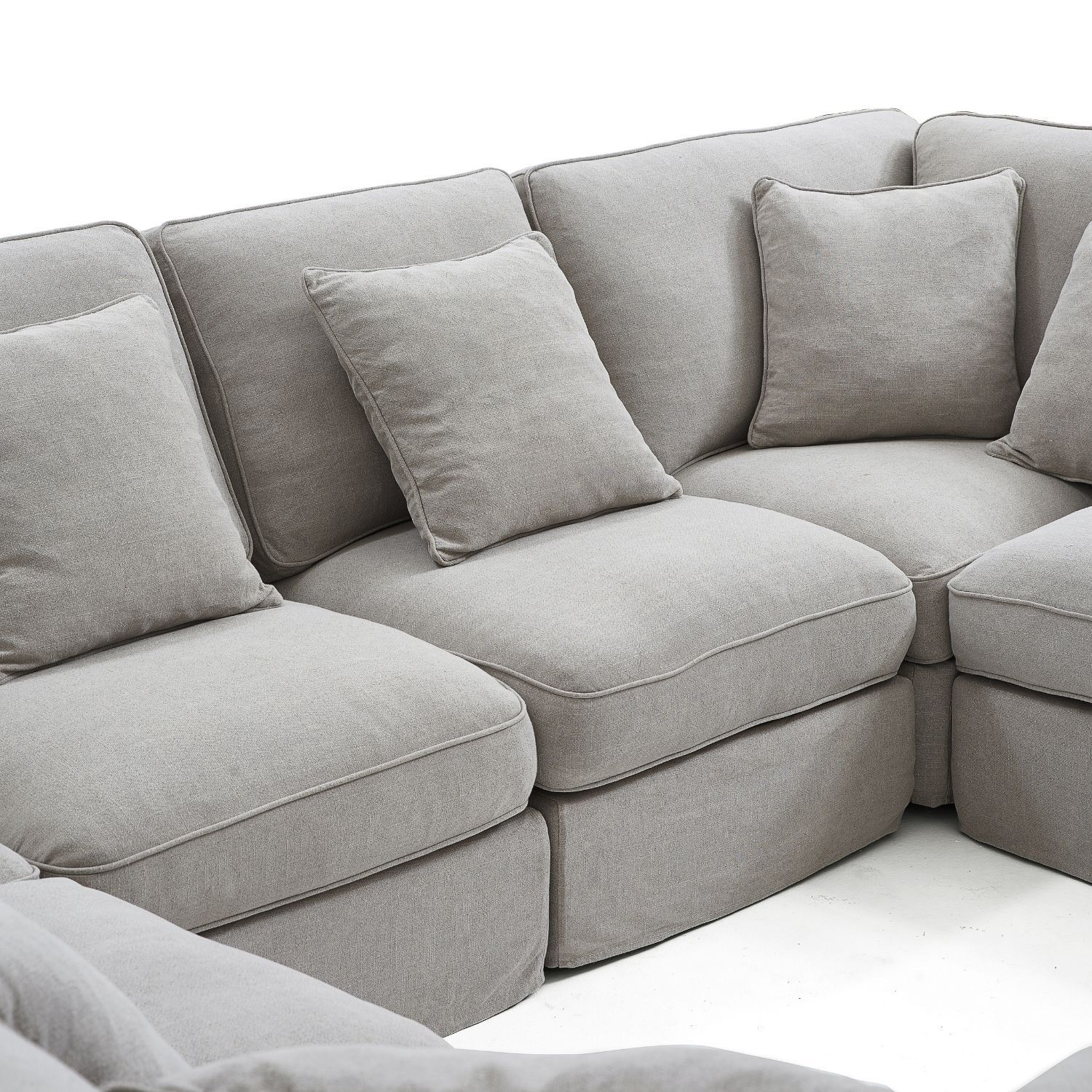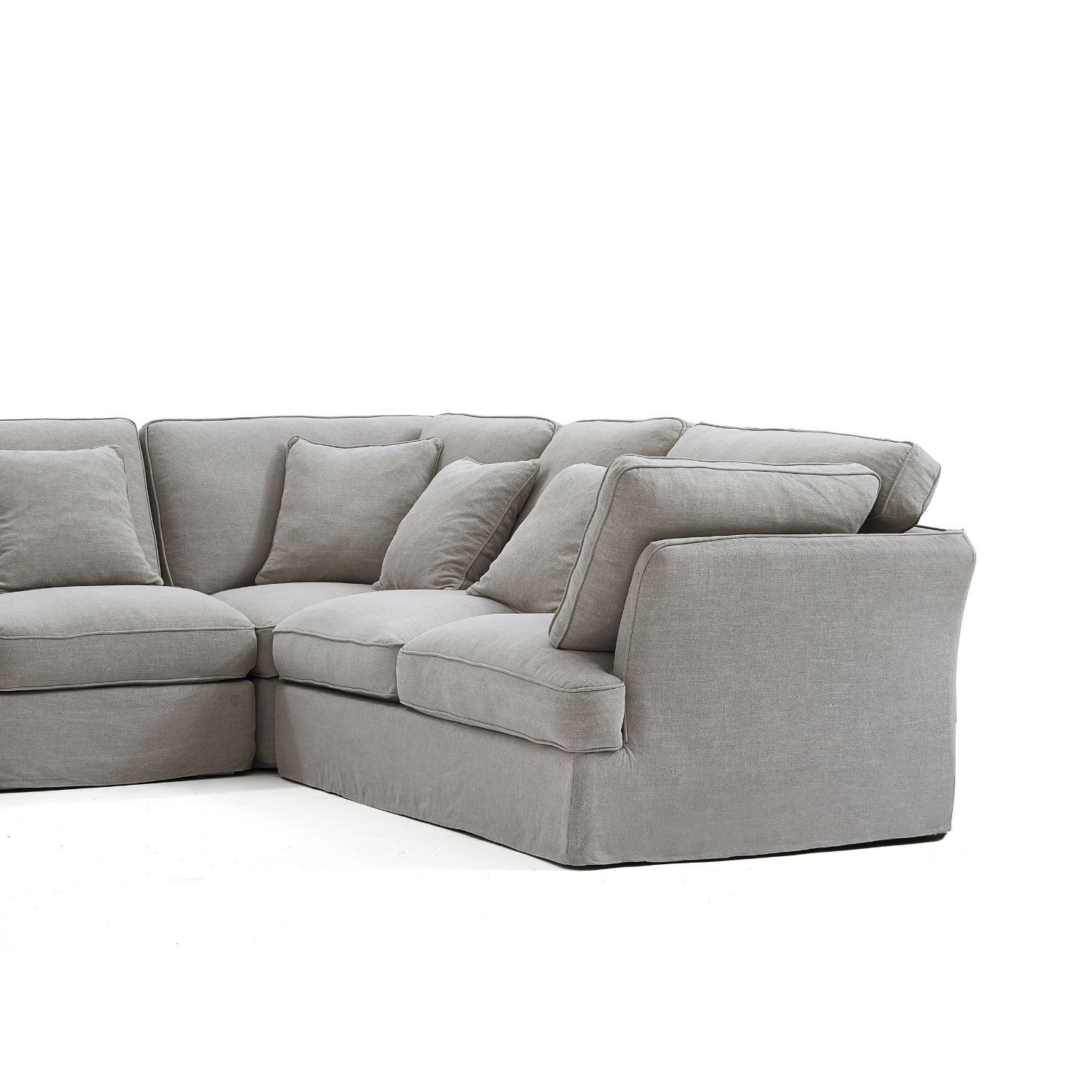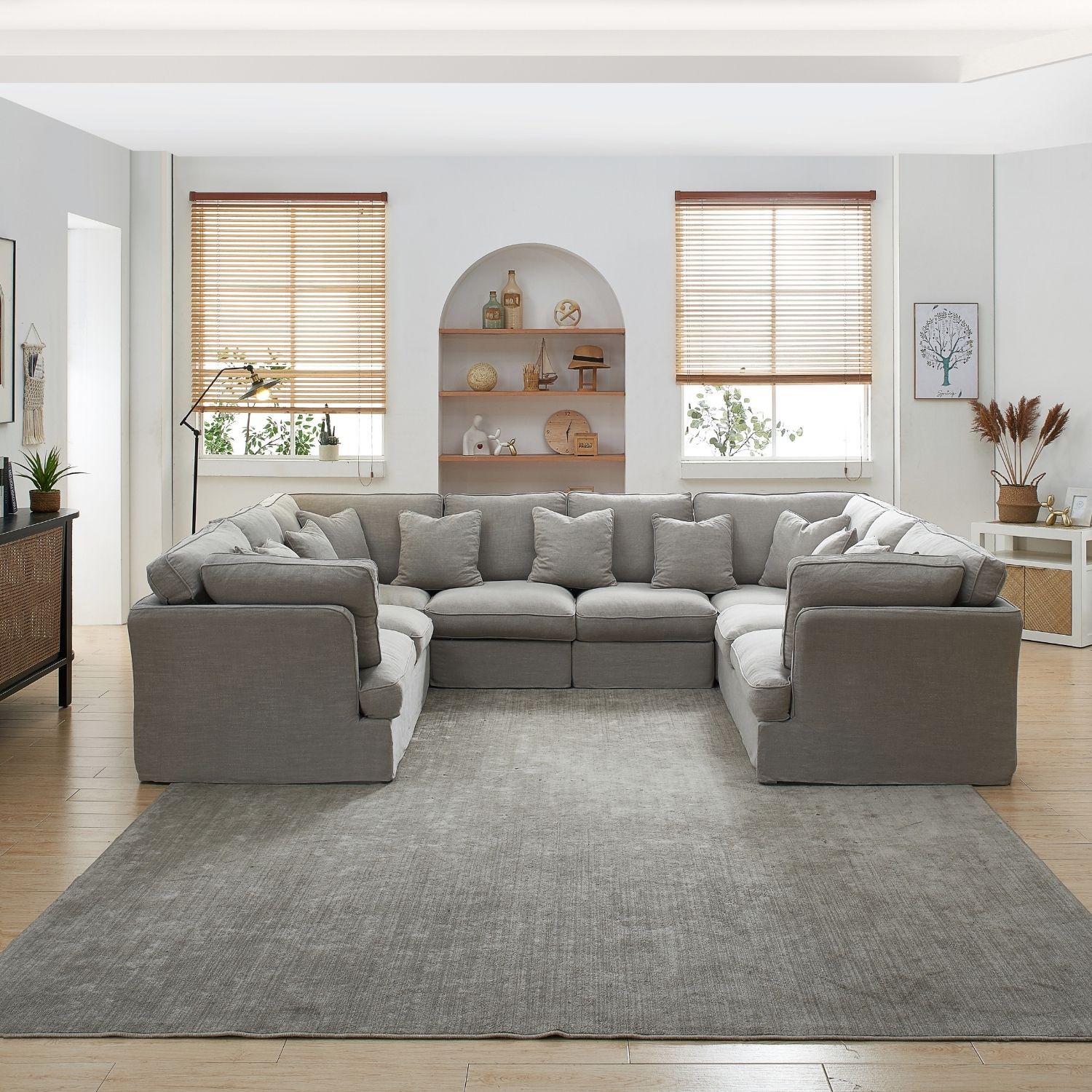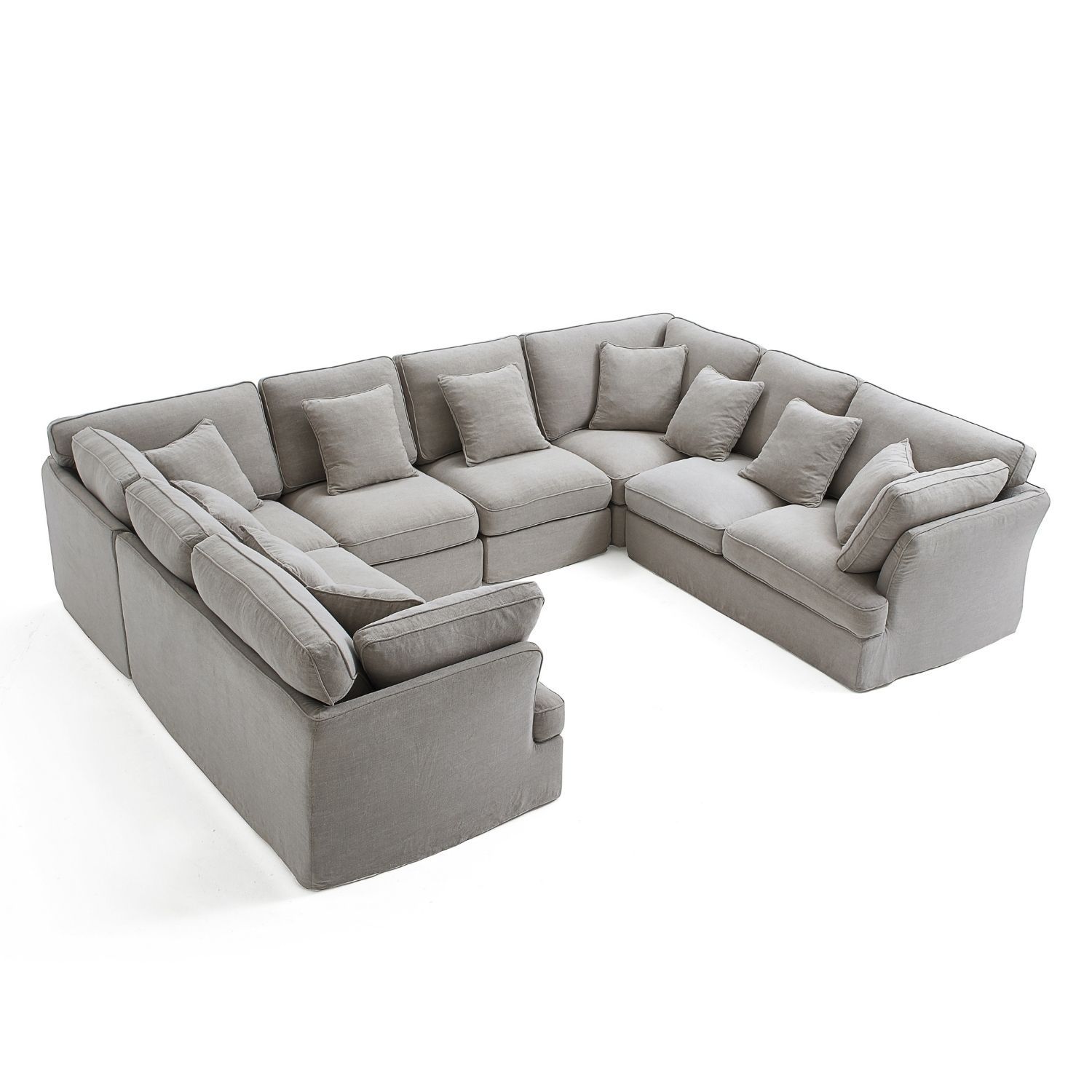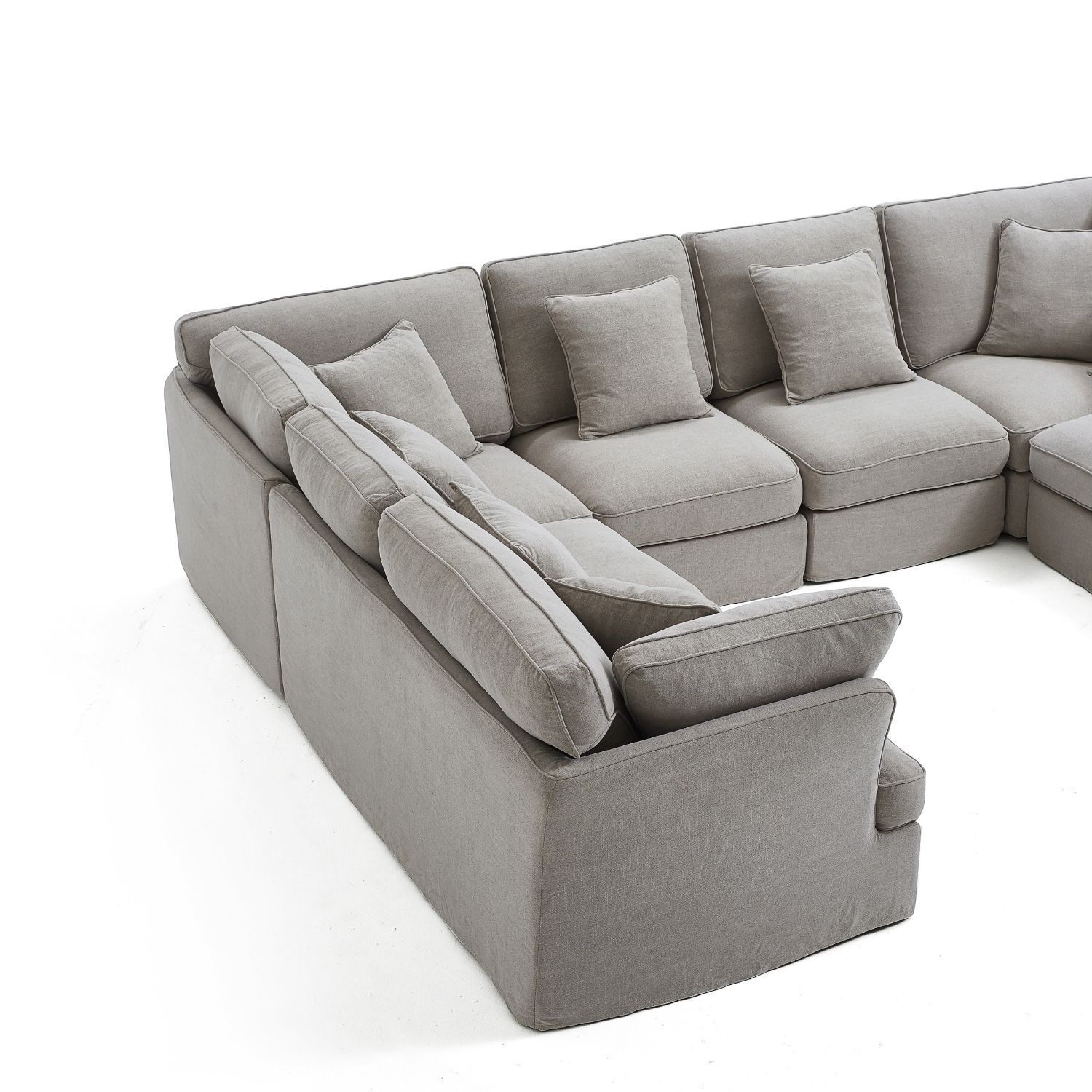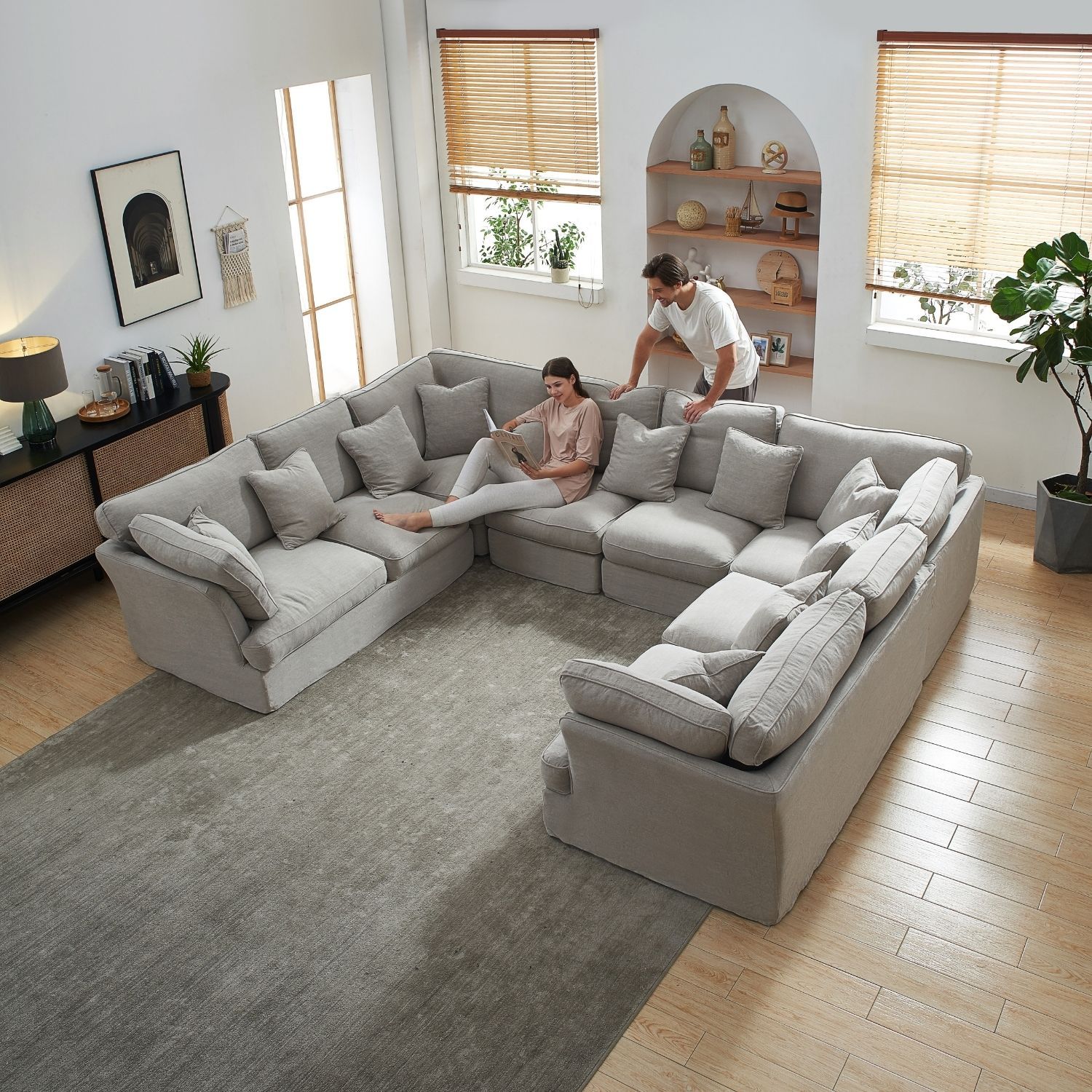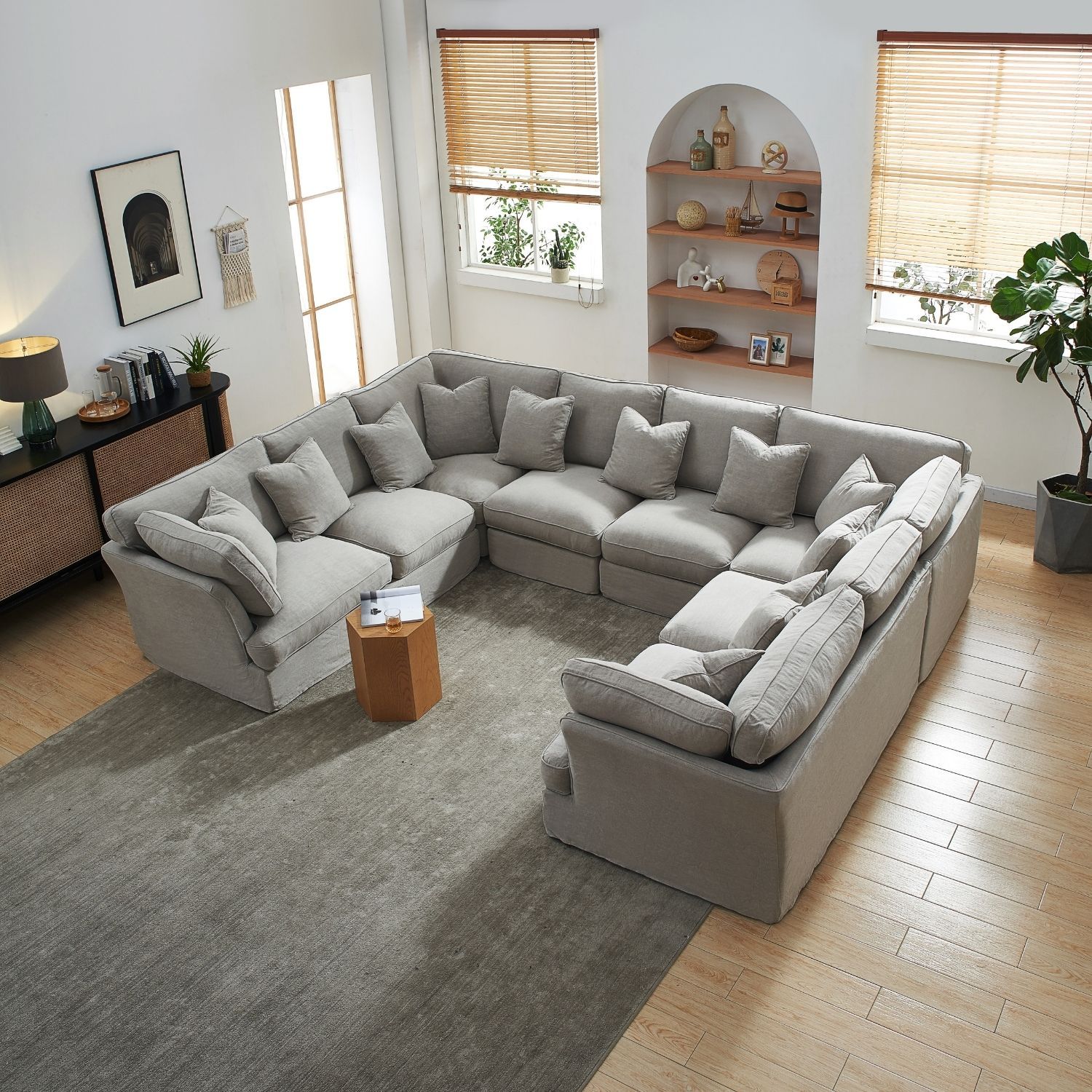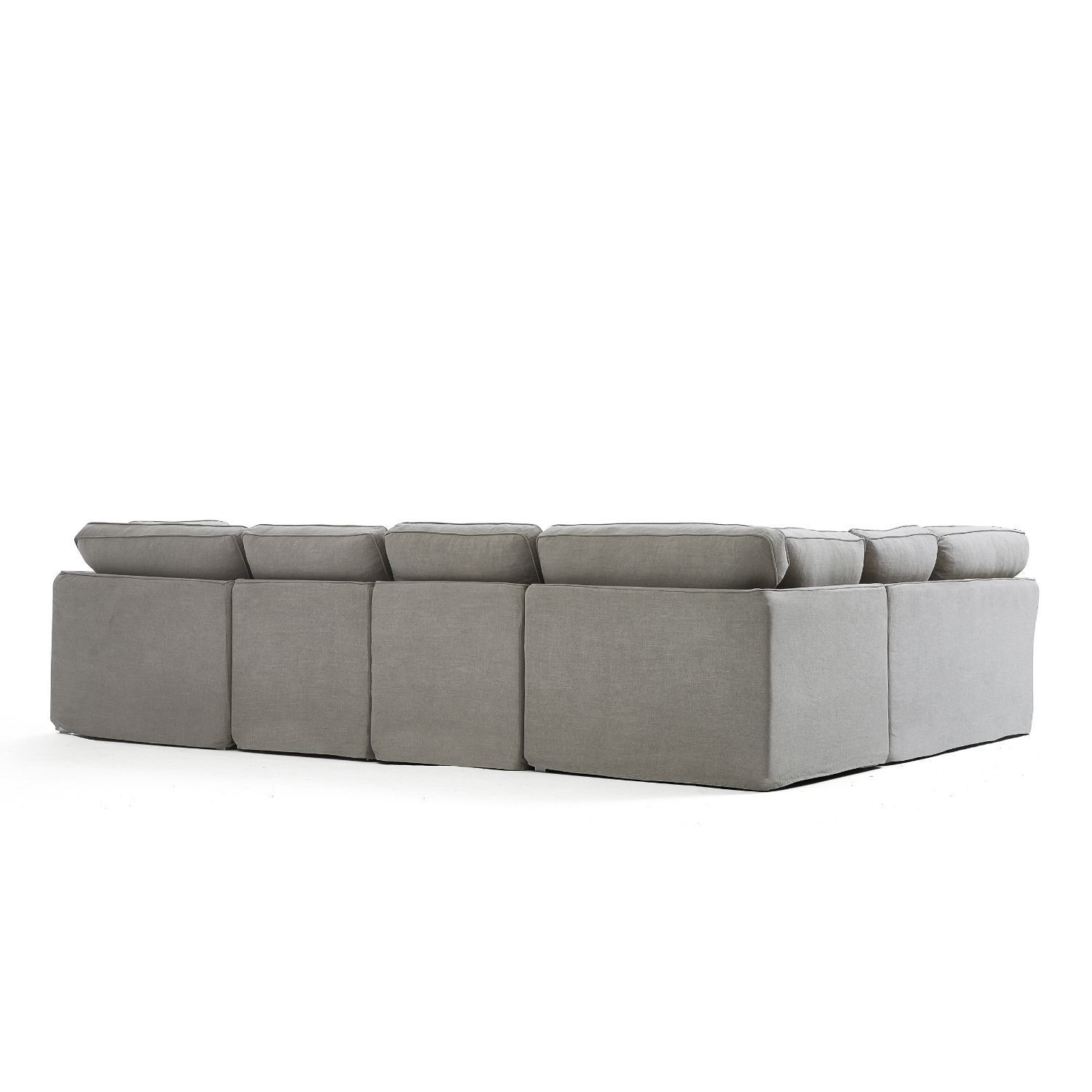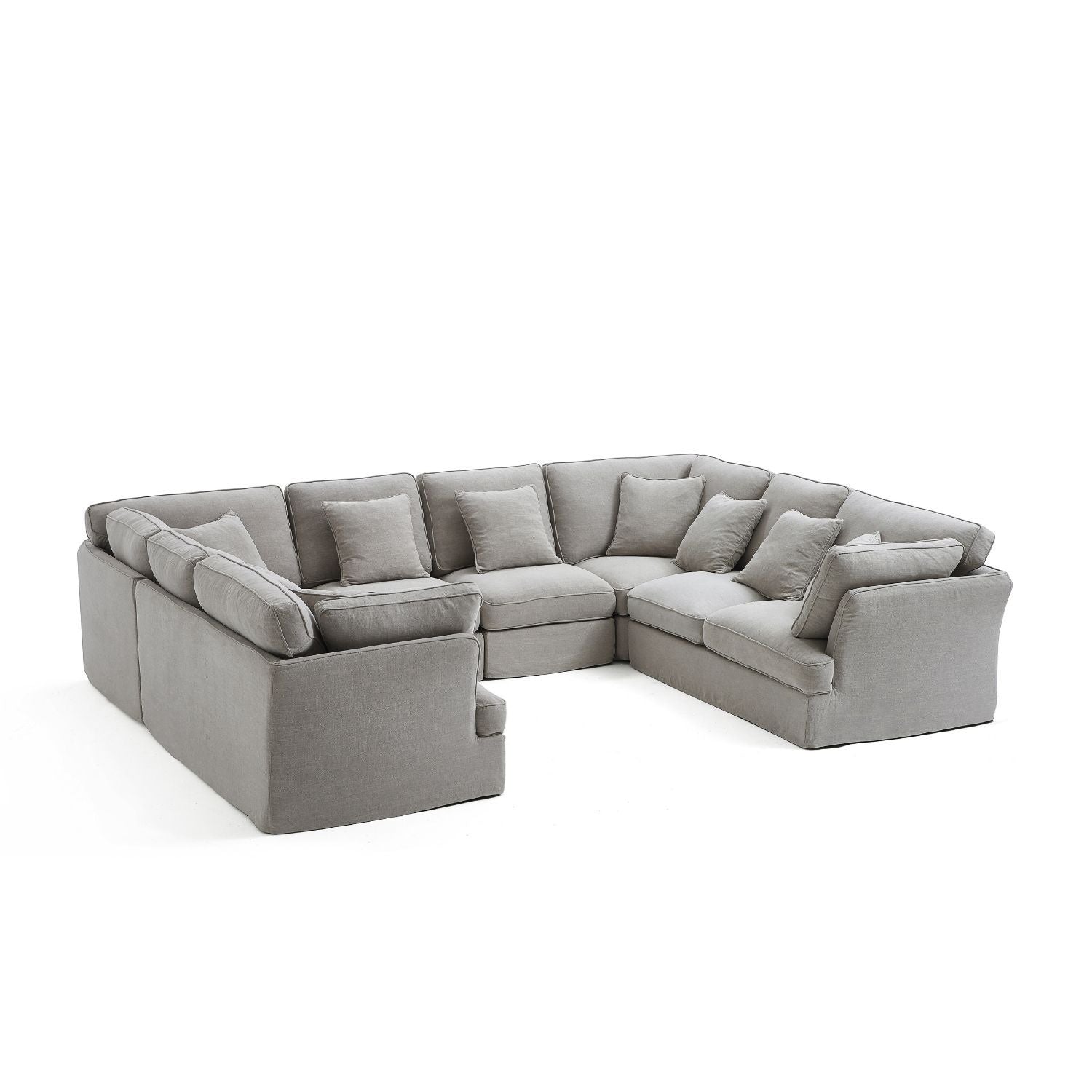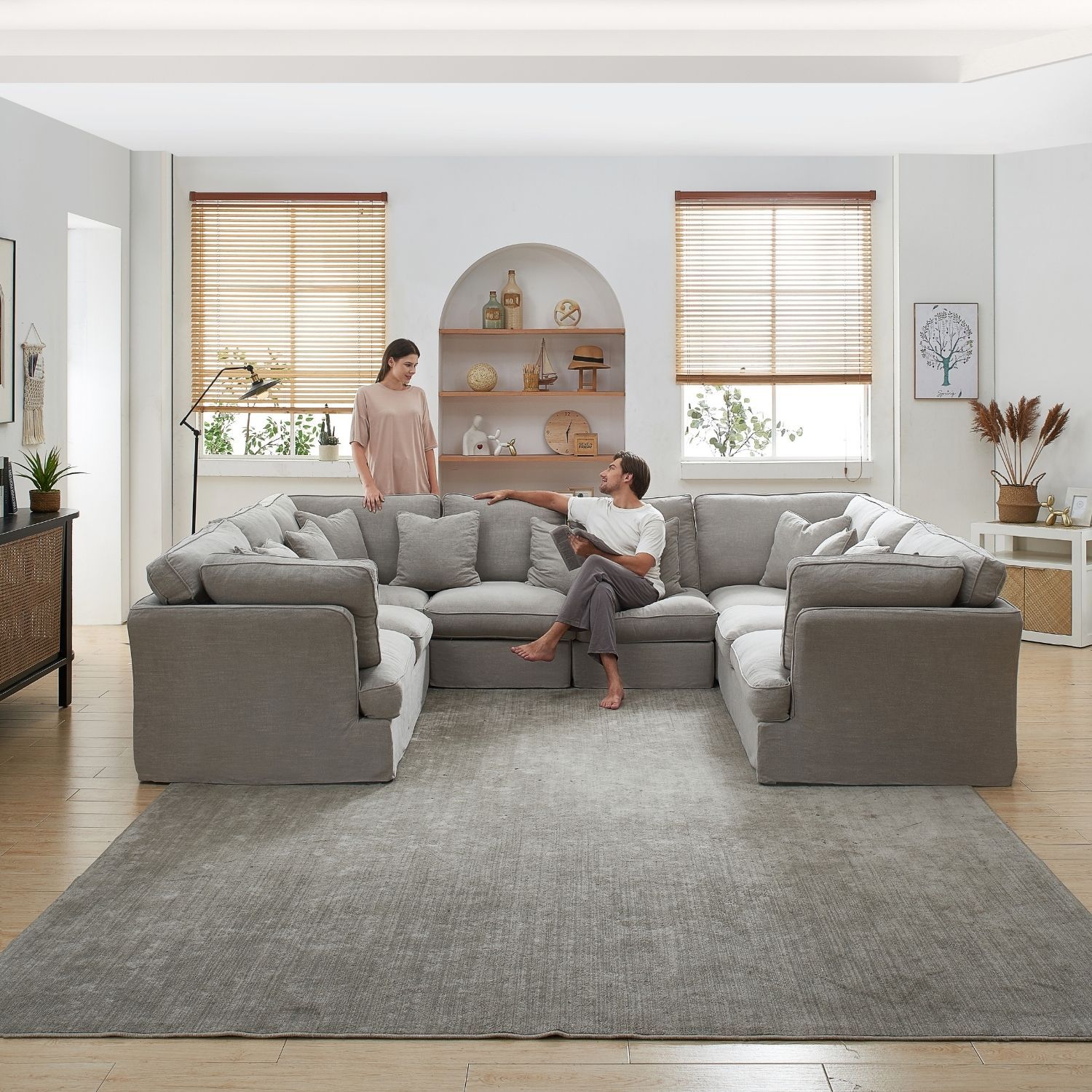 Chubby U Sectional
---
Add Protection Plan
What's covered
Pickup available at Kapolei Warehouse
Usually ready in 2-4 days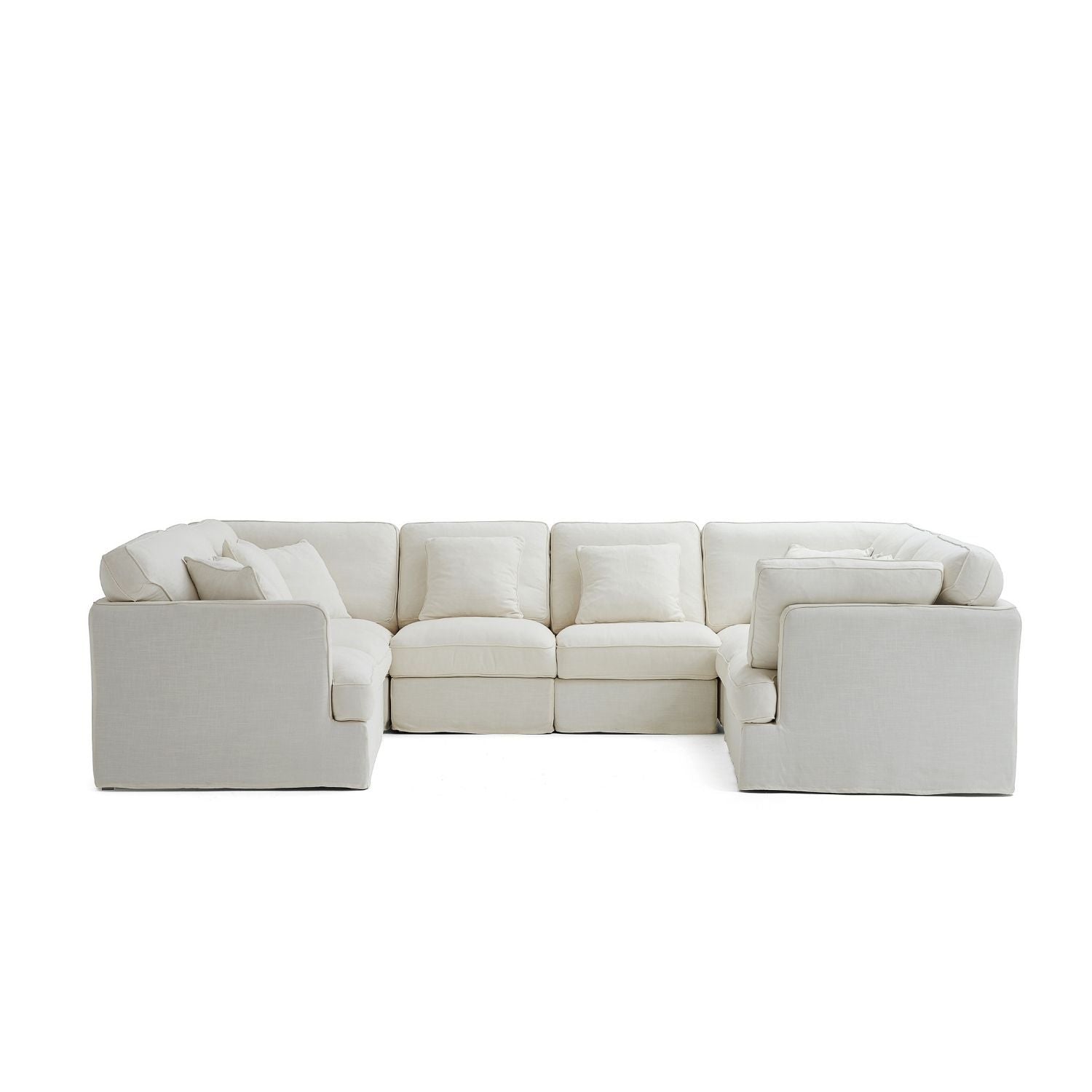 Overall Dimensions: 135"W x 107"D x 36"H

Overall Height: 36"
Overall Depth: 40.5"
Back Rest Height: 33"
Back Cushion Height: 20"
Arm Height" 17"
Seat Depth: 26"
Seat Height: 16"
Leg Height: 2"
Material: Linen Fabric
Inside: Soft Foam & Feathers
Frame: Wood
Elegant, airy, and fresh, linen has a unique and highly desirable charm. In addition to being a natural and sustainable fabric, it is timeless and always in season.

To clean: Vacuum the upholstery moving it from left to right in short, overlapping lines. It's important to keep linen-covered sofas out of direct sunlight to prevent discoloration.

Treat stains: Use a clean, damp cloth to dab and lift away any stains. Do not rub a stain in or push it further into the fabric. You may need to use a mild detergent for stubborn stains. Only use soft cloths or sponges. More abrasive scrubbing tools could damage the texture of the fabric.

Washing: Remove your covers, wash on a gentle cycle in cold water with mild detergent. Make sure the covers are zipped closed before putting in the washing machine. Line dry and replace while slightly damp. When drying, avoid clothespin or clips that could crease the fabric. You may use a steamer or warm iron to remove creases.
Carton Size
Box 1: 40.55"L x 40.55"D x 27.56"H
Box 2: 40.55"L x 40.55"D x 27.56"H
Box 3: 29.13"L x 40.55"D x 27.56"H
Box 4: 29.13"L x 40.55"D x 27.56"H
Box 5: 68.11"L x 40.55"D x 27.95"H
Box 6: 68.11"L x 40.55"D x 27.95"H
Total Weight: 462.98 lbs
Items in our Lemons & Me collection are hand crafted and made from natural materials. The finish you see here may not be the vision you get at home. Nothing major, just different colors and grains in the wood, and sometimes very minor variations in size.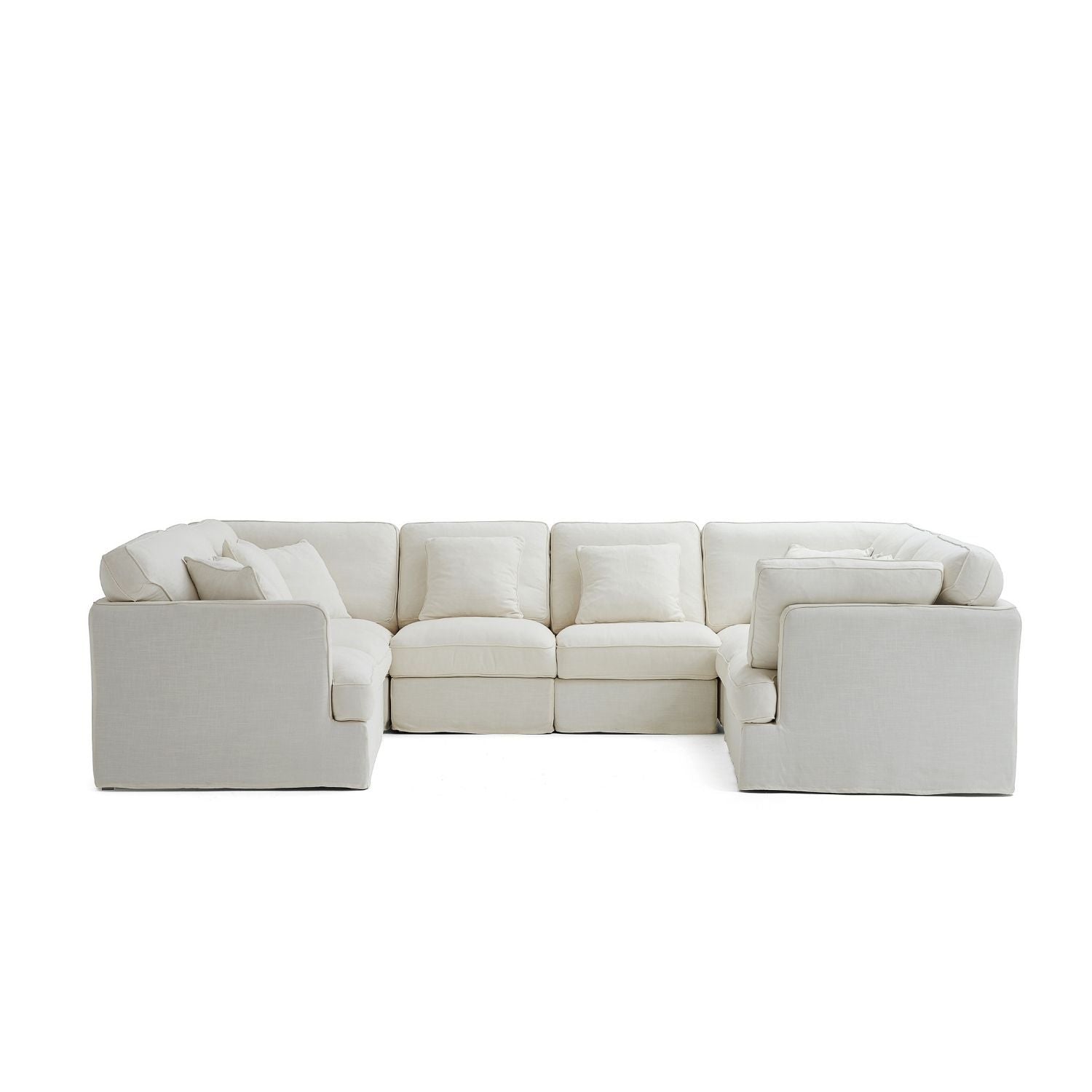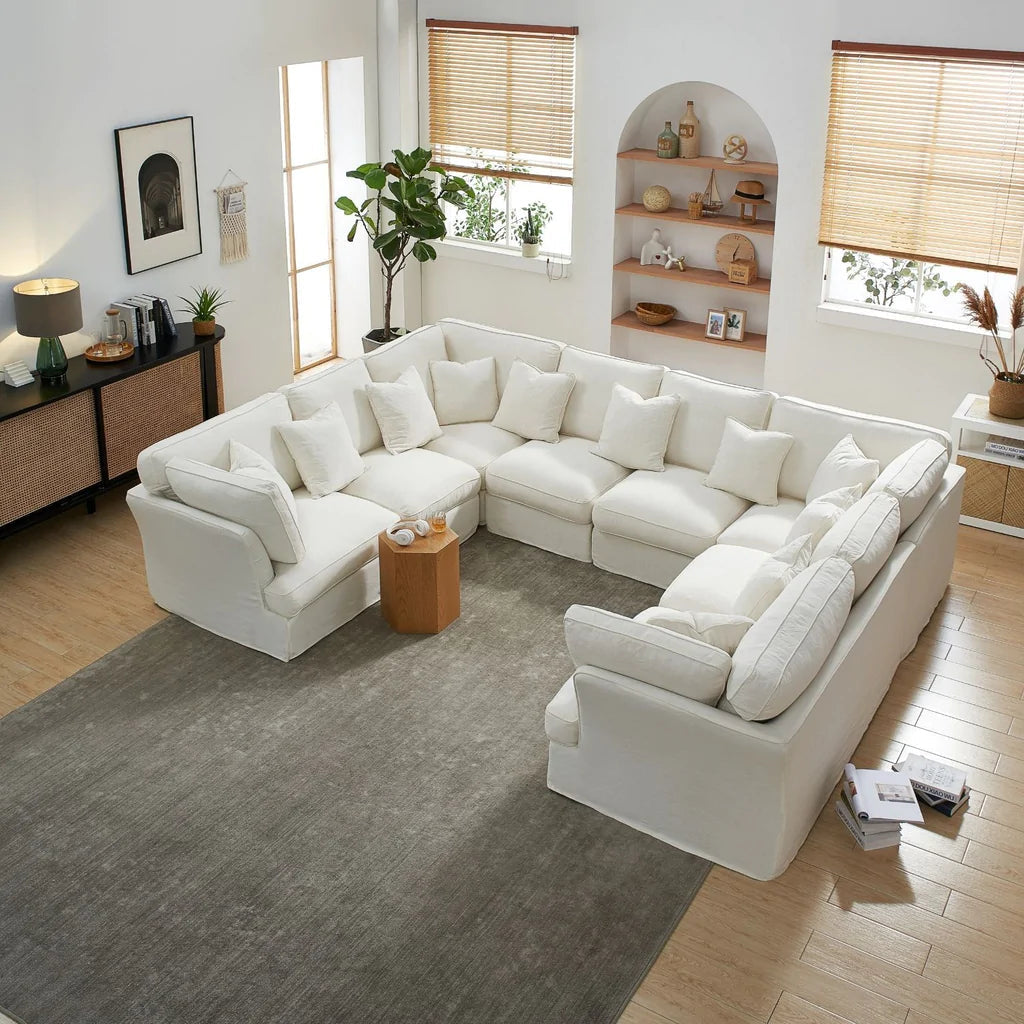 Staycation from home
Turn your home into an oasis with this plush ever so soft sofa. After a long day, you deserve to put your feet up and relax. Allow this sofa to transcend your at home experience with its fresh, light, sophisticated style.

Stylish comfort
This sofa is not only stylish, it's actually cloud-like soft. Made from 3D foam and soft feathers, this sofa will elevate your space and mood.
In Real Life
Video taken by an iphone 12. No filters, No edits.
Stay cool
Soft cool linen fabric guaranteed to melt away the day's woes.
Designed to last
Don't let its cloud-like softness fool you. This fabric is strong and durable.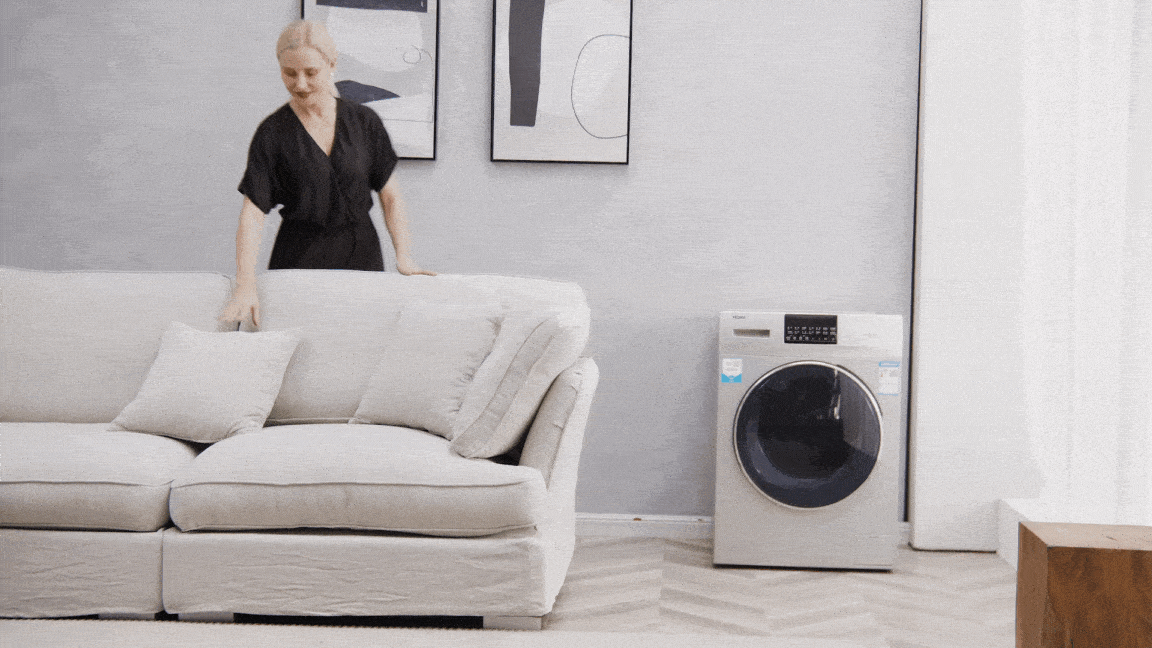 Removable and Washable Covers!
The Chubby Sofa is a comfortable and versatile piece of furniture, designed with convenience in mind. Its removable and washable covers make maintenance a breeze, ensuring your sofa stays fresh and clean. We recommend washing the covers in cold water with a mild detergent to preserve their quality. It's important to avoid using a dryer as it may damage the fabric. Instead, the covers can be line-dried, or for a quicker option, many people prefer putting the cover back on the cushion while it is still damp, allowing it to air dry. With its practicality and easy care instructions, the Chubby Sofa is a perfect addition to any home.


This product has no reviews yet.