La Moreno Sofa
---
Length: 145"
Depth: 39"
Height: 26"
Frame: Metal
Inside: Foam, Plywood, PVC
Technical Leather is generally easy to care for with a few simple steps and a quick and easy maintenance routine.

To clean: Vacuum the upholstery moving it from left to right in short, overlapping lines. This material is spot-clean only. Do not wash these covers in the washing machine.

Treat stains: Use a clean, dry cloth to dab and lift away any stains. Do not rub a stain in or push it further into the fabric. For water-based spills, use a white cloth dampened with distilled water then let air dry. For more stubborn stains, you may need to use a mild detergent diluted with distilled water. Dampen a clean cloth or sponge with this mixture and apply gently to the spill. Remove the detergent mixture with a damp cloth, pat dry with a clean dry cloth.
Carton Size
Box 1: 41"D x 70"L x 27"H
Box 2: 41"D x 70"L x 27"H
Box 3: 18"D x 33"L x 17"H
Carton Weight: 453.4lbs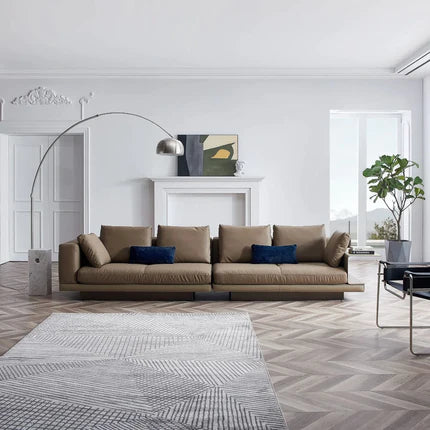 Elevated lounger
Designed by acclaimed Italian designer Mario Capasa. This sofa is as stylish as it is practical. With removable covers and raised frame for an easy low maintenance clean. Comes with its very own side table kick stand, La Moreno Sofa can do no wrong. 100% vegan leather that's water resistant, anti-stain, pet proof and lasts 2.5 times longer than regular leather.

Modernly chic
La Moreno Sofa is not made to look like your typical sofa. With clean, defined lines and unique shape for an inviting lure.
In Real Life
Video taken by an iphone 12. No filters, No edits.
Sensational comfort
Designed with high-density foam to support all your comfort needs. Supports never looked so sexy.
"Leather" with benefits
La Moreno Sofa looks and feels like aged leather, only it's 100% vegan. It's also water resistant, anti-stain, pet proof, and last 2.5 times longer than regular leather.
This product has no reviews yet.